List Of Aviation Stocks In India
List Of Aviation Stocks In India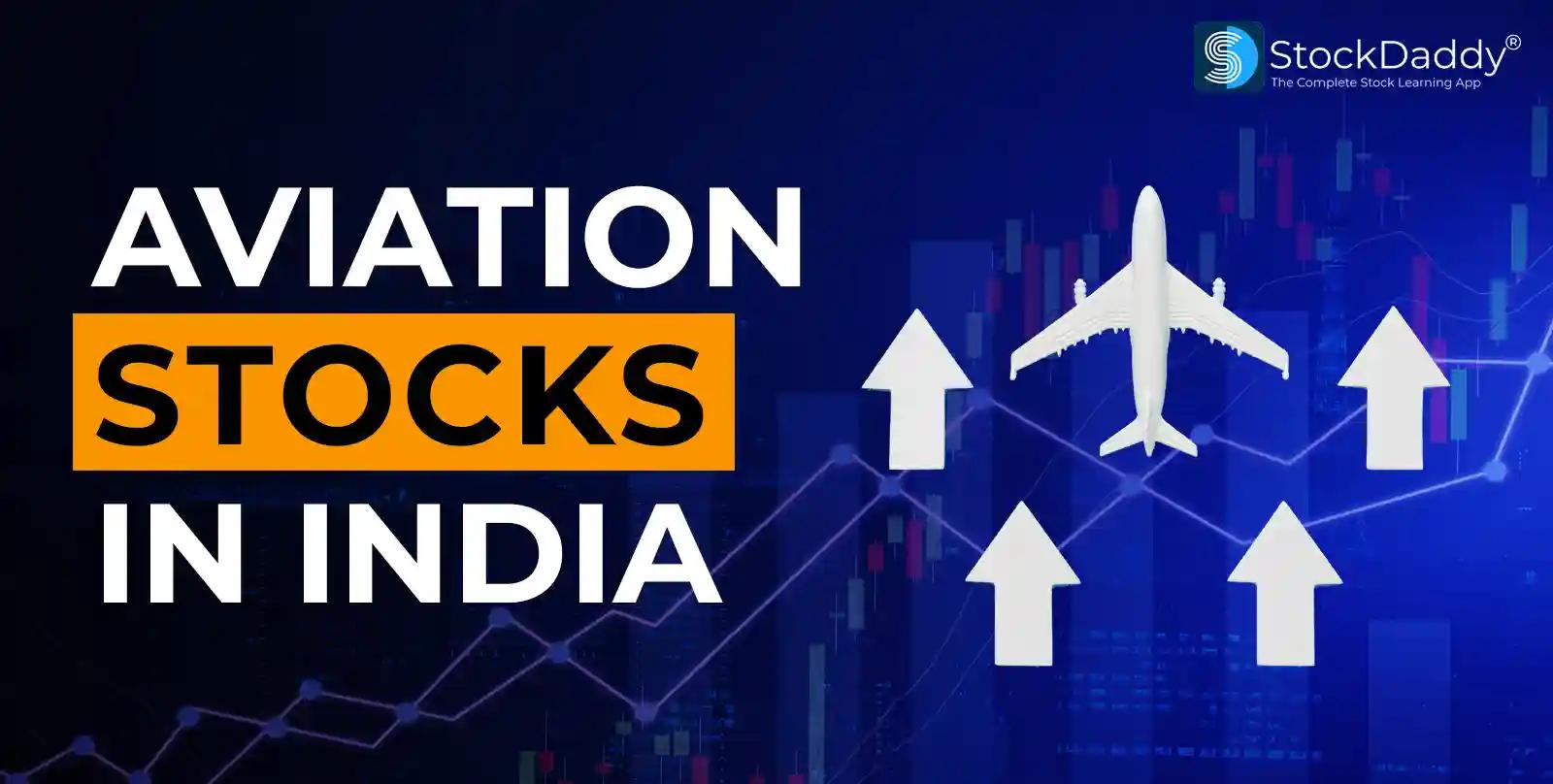 The airline industry is experiencing a resurgence, driven by a surge in travelers, which, in turn, has led to an uptick in the valuation of aviation stocks in India. In February 2023, India's aviation regulator, the Directorate General of Civil Aviation (DGCA), reported that the domestic air passenger traffic in India reached 120 million. This remarkable growth can be attributed to the government's backing of the aviation sector and the growing demand for air travel, which has resulted in a substantial increase in the stock prices of numerous aviation companies in India.
India's aviation sector is one of the fastest-growing globally, thanks to a rapidly expanding middle class and increasing disposable incomes. The increasing popularity of aviation stocks in India is a result of government support for the industry and a growing demand for air travel. Consequently, the stocks of several airlines and aviation-related businesses in India have seen significant increases over time. In this blog, we'll explore the potential opportunities in the airline sector in India and provide a list of the top aviation stocks for 2023. Keep reading to learn more.
Factors to Consider Before Investing in Indian Aviation Stocks:
Investing in Indian aviation stocks from various companies can be an excellent opportunity for investors. When investing in Indian aviation companies, consider the following factors:
1). Financial Performance:
It's crucial to assess the financial performance of the aviation company before investing. This includes examining aspects like revenue growth, profit margins, debt levels, and cash flow. Past performance can also indicate the company's ability to maintain profitability.
An aviation company's market share is a reflection of its competitiveness in the industry. Therefore, evaluating a company's market share and comparing it to its competitors is essential to understand its position in the market.
The aviation sector is subject to extensive regulations, and any alterations to these laws can significantly impact the industry and the companies within it. Investors should stay informed about regulatory changes and their potential effects on businesses.
The state of the nation's economy can have a substantial impact on the performance of the aviation sector. Consider factors such as GDP growth, inflation, and interest rates when making investment decisions.
Staying updated on industry trends and developments, including technological advancements, changing customer preferences, and competition, is vital for making informed investment choices.
With technical analysis course learn how to predict the price movement of a specific stock using historical data and volume.
Top Aviation Stocks in the Stock Market: An Overview
1)

InterGlobe

Aviation:
InterGlobe Aviation owns IndiGo, India's largest airline by market share. Founded by Rahul Bhatia and Rakesh Gangwal, Indigo, India's largest passenger airline, and the country's sole low-cost carrier, boasts an extensive presence across 86 locations, including 24 international destinations. Indigo is known for its straightforward, unbundled service approach, aiming to provide passengers with affordable fares, on-time flights, and courteous, hassle-free service. The company embarked on its journey in August 2006 with just one aircraft and has since expanded its fleet astonishingly.
Indigo is poised for remarkable growth, with an anticipated revenue growth rate of 20.33% in the coming year, surpassing the compound annual growth rate (CAGR) of revenue for the past three years, which stood at 13.20%. Moreover, the projected earnings growth rate of 2052.84% for the next year far exceeds the CAGR of earnings growth over the previous three years, which was 0%.
IndiGo has rapidly grown into one of the world's leading low-cost airlines with over 280 aircraft as of 2021. The company is committed to sustainability and has launched initiatives to reduce its carbon footprint. This commitment, along with its market dominance, makes IndiGo a top choice in the domestic aviation sector.
2) SpiceJet:
SpiceJet, founded by Ajay Singh in 2005 as an air taxi service, transitioned into a low-cost airline in 2010. It has received numerous accolades, including the title of 'India's Top Low-Cost Airline' for eight consecutive years from 2013 to 2020. SpiceJet Ltd. is primarily focused on offering air transportation services for both passengers and freight. SpiceJet has also expanded into the logistics and air freight sectors, partnering with various e-commerce companies to provide logistics and delivery services. This diversification has solidified its position in the stock market. As the second-largest player in the Indian domestic aviation sector, following Interglobe Aviation Ltd (Indigo), the company commands a substantial market share, accounting for approximately 14.93% of the market. Additionally, it holds the top position in the Indian market as the leading operator of freight services.
3) TAAL Enterprises:
TAAL Enterprises Limited, formerly known as Trans-Asian Aviation Limited, is a publicly listed Indian corporation that offers ground handling and related services to airlines in India. In addition to ground handling, TAAL Enterprises has ventured into helicopter services, aircraft charter, and airport retail. The company has earned recognition for the quality of its services and business practices, making it a prominent player in the Indian aviation sector.
4) Hindustan Aeronautics Ltd. (HAL):
Hindustan Aeronautics Limited (HAL) is a Bangalore-based Indian state-owned aerospace and defense company. Founded in 1940, HAL is one of the world's oldest and largest aerospace and defense manufacturers. It designs and manufactures fighter jets, helicopters, jet engines, avionics, and more for the Indian military. In the aviation and defense industries, HAL remains a major player with a rich history and diverse product portfolio.
5) Global Vectra Helicorp:
Global Vectra Helicorp Ltd, a publicly listed Indian corporation, often referred to as Global Vectra, specializes in providing helicopter services to various clients, including oil and gas companies, state governments, and other organizations.
Global Vectra offers a range of services, including aircraft maintenance, repair, and overhaul (MRO), in addition to helicopter services. The company also conducts maintenance services for various types of aircraft from a specialized MRO facility authorized by the Directorate General of Civil Aviation (DGCA).
Global Vectra has a well-established track record of success and has been recognized with awards for its high-quality services and business practices. In 2018, the company received the 'Best Helicopter Service Provider' award at the Wings India Awards. It is a prominent player in the Indian aviation market and is strategically positioned to leverage the industry's growth opportunities.
With its focus on delivering top-notch helicopter services to the offshore oil and gas sector and its diversification into aircraft maintenance services, Global Vectra has the potential for further development and expansion.
The Indian government is currently focused on fostering the growth of the country's aviation sector on a broader scale and is actively taking measures to achieve this goal. Consequently, India has risen to become the third-largest domestic aviation market, experiencing rapid expansion as it heads towards the top ranks.

Given the sector's substantial contribution to India's overall GDP, the aviation industry plays a pivotal role in the nation's economic development. It also serves as a crucial link connecting India to the rest of the world. Therefore, the aviation industry will continue to be a pivotal player in the foreseeable future.
Potential Risks Associated with Indian Airline Companies
Before investing in aviation stocks, it's important to consider potential risk factors, including:
Dependence on government regulations and unforeseen events, such as the COVID-19 pandemic.

Vulnerability to geopolitical factors and conditions that can

impact

demand and the supply chain.

Risks associated with fluctuating fuel prices, as higher prices can dissuade people from choosing air travel, affecting stock prices.

The process of recovering from losses incurred during the pandemic-related lockdown period.

A potential reduction in business travel due to the adoption of online meetings, which can

impact

the overall number of people traveling for business purposes.
The Indian aviation sector holds considerable growth potential, driven by factors such as the expanding middle class, increasing disposable incomes, and government support. Companies like InterGlobe Aviation (IndiGo), SpiceJet, TAAL Enterprises, and Hindustan Aeronautics Ltd. are key players in this industry and may attract investors looking to participate in India's aviation market.
However, it's crucial to consider several factors before investing and be aware of the risks associated with the aviation industry, including currency fluctuations, volatile fuel prices, and regulatory changes.