Best Defence Stocks In India To Buy In 2023
Best Defence Stocks In India To Buy In 2023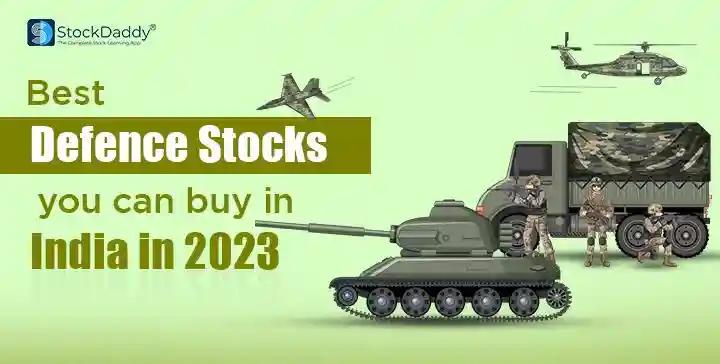 Indian Defence sector stocks have seen a stellar rise as investors are quite bullish on the defence sector stocks. Defence is an integral institution of any country as it safeguards a country from any external or internal threats. A terror-free country is a haven for businesses to boom and attracts foreign investments, therefore countries spend billions of dollars on their defence industry to safeguard their geographical boundaries.
Being a developing economy, it is important for India to upgrade its defence sector and make it self-sufficient and modern to counter the threats posed by Pakistan and China. The government of India realizes it and therefore is spending heavily which resulted in the rally in prices of the best defence stocks in India.

Get free stock market courses by open a demat account with stockdaddy, and know how to open demat account.
Why Indian Defence sector stocks are rising?
As a result of the Indian government's Make in India and Atmanirbhar Bharat initiatives, the government imposed an import embargo on 101 defence items. The government announcement to become 70% self-reliant in defence equipment manufacturing.
In Budget, 2022 that around 68% of the defence-related equipment contracts will be given to Indian companies. In addition to it, the Indian government is aiming to achieve a turnover of 25 billion dollars in the Aerospace and Defence goods and service sector.
The cumulative FDI in the defence sector of India stood at 15.71 million dollars from the period of April 2000 to September 2022 which is a testament to the growth of the defence system of India.
As of 2021, India is the third major spender of military spender as they spent USD 77 billion which accounted for around 3.6% of the total world spending. Additionally, in the Union Budget of FY 2023-24, the Central government raised the defence budget to 5.94 lakh crore, a 13% rise from the previous year's budget of 5.35 lakh crore. Defence sector is good stocks for long term investment. therefore you should invest early in the stock market to leverage the power of compounding.
By taking the technical analysis course, you can gain a deeper understanding of market sentiments and price movements through the analysis of trading volume.
Before investing in any stock every investor must know the Dos And Don'ts Of Investing. These do's and don'ts are going to be very useful in your investing journey.
List of Best Defence Stocks of India
Below is the list of the best defence stocks to buy in India and are some also some of the top defence sector stocks list of India based on their market capitalization also get to know about the top companies in India by market capitalization across all sectors. You need to know the important ratio before investing in Defence sector stocks.
Analysis of Top Defence Companies of India
1). Hindustan Aeronautics Limited
Hindustan Aeronautics Limited is the biggest player in the defence industry. It is one of the most expensive share in India and also the monopoly stock in India and among the top Indian defence sector stocks, which deals in the manufacture of Aircraft and Helicopters and Repair and Maintenance of Aircraft and Helicopters.
HAL plays a key role in India's defence initiatives as it is the only company that specializes in the manufacturing and maintenance of aircrafts and helicopters in India. As of August 2022, the order books of HAL have orders worth of 85,000 crores out of which orders worth of 45,000 crores are in the advanced stages of finalization. The key feature of the company is that it is completely debt-free.
2). Bharat Electronics Limited
Bharat Electronics was formed in 1954 in cooperation with CSF to cater to the needs of specialized electronic equipment of the Indian Defence Services. BEL is an aerospace and defence company wholly owned by the Indian state's 9 factories and several regional offices spread across India.
BEL has signed deals with prominent companies for the growth of their business including a contract worth 250 crores with the Ministry of Defence for supplying integrated Anti-Submarine Warfare systems for the defence forces of India.
3). Bharat Dynamics Limited
Bharat Dynamics Limited is a government-owned company that deals in the making of guided missiles and allied defence equipments. BDL is only of the leading defence companies in India with orders pending of around 12,000 crores and a robust export order book.
BDL has signed a contract with the DRDO as a production agency for Vertically Launched Short Range Surface to Air Missiles (VLSRSAM) and it is the only production agency for this system.
4). Mazagon Dock Shipbuilders Limited
Mazagon Dock is a government entity that is into building and repair of submarines, ships and different types of vessels and related engineering products for various domestic and international clients.
Mazagon was set up in 1934 as a private company but its control was taken by the government in 1960 and since then it has manufactured a variety of defence equipment such as warships, missile boats, submarines, and other equipment for the Indian Defence forces. The company's location is in Mumbai connecting it well to Europe, West Asia, and Pacific Rim. It is the sole entity to build destroyers as well as conventional submarines for the Indian Navy.
5). Data Pattern India Limited
Data Pattern India Limited is a vertically integrated company providing defence and aerospace electronics solutions to all Indian armed services. It is among the most important and fastest-growing defence sector stocks and aerospace companies.
It caters to the defence needs across the spectrum of defence and aerospace platforms by manufacturing strategic defence equipment such as Electronic Warfare suite, Light Combat Aircraft, Light Utility Helicopters, Brahmo's program, Avionics, small satellites, and many more.
To Sum Up
Given the rising tensions over territorial issues with China and Pakistan and escalating volatility among countries post the war between Russia and Ukraine many developed countries have raised their defence budgets and India being among the top 5 spenders has done the same and is expected to continue to do so which has resulted in the rally in the prices of the stocks of the defence.
But given other factors such as volatility in the prices of raw materials of these defence equipment, risk of change in government policies, and the fact that most of these companies are small or mid-size companies, there are risks attached to investing in the companies of this sector. So, it is advisable to keep track of these factors and the growth of these companies to safeguard your investment.
FAQ
Que 1. List of Aerospace Stock in India?
Airnetz Aviation Pvt Ltd
Taneja Aerospace and Aviation Ltd
Aroon Aviation Services Pvt Ltd
BAE Systems India Services Pvt Ltd
Bharat Dynamics Ltd
Bharat Electronics Ltd
BrahMos Aerospace Pvt Ltd
Boeing India Pvt Ltd
Electronics Corporation of India Ltd
Hindustan Aeronautics Ltd
Lockheed Martin India Pvt Ltd
Que 2. List of Small Cap Defence Stock in India?
Ans. Here is the list of Small Cap Defence Stock in India are:
Data Pattern(India) LTD
Hindustan Aeronautics Ltd
Bharat Dynamics Ltd
High Energy Batteries (India) LTD
Taneja Aerospace and Aviation Ltd
Sika Interplant System Ltd
Paras Defence and Space Technologies Ltd
Ques 3. Why invest in defence stocks?
Ans- Investing in defence stocks can offer several potential benefits and considerations. Here are some reasons why investors may choose to invest in defense stocks:
Steady Demand
Technological Innovation
Global Market Presence
Government Support
Ques 4. Are defence stocks good for long-term investment?
Ans- India's defence sector has always been a priority, and as per the current plans, investing in these stocks have a high probability to become the mutibagger stock in the long term. Before investing, however, you should take into account that these stocks are subject to market volatility and should be carefully analyzed.
Ques 5. Defence stocks with dividends?
Ans. Dividend yields for Defence stocks over the past 1 Year, 2 Year, and 5 Year periods are listed below. Dividend yields have been adjusted with split bonuses. 2-year and 5-year annualized dividend yields.
Que 6. List of Defence stocks in Nifty 50?
Ans. The Nifty 50 does not include any defence stocks.