Best Share Market Tips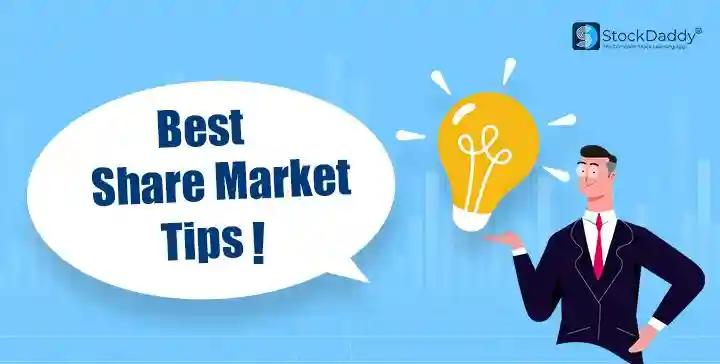 As they say, if the base is strong then the building is built solid, similarly in the stock market the foundation is strong, and the investment is bound to give good returns in the future. The stock market is one of the most effective ways of creating wealth but if not done right, it can be dangerous as it can also erode your wealth in no time but share market tips helps you to achieve this goal.
Not only beginners but sometimes even those with adequate stock market experience make rookie mistakes in the stock market. You must have heard people say that if you had invested this much money in a particular stock back in time, it would have given extraordinary returns in today's time.
All these things could motivate people so much that they could hastily enter the market and, in a quest to earn quick money they might end up making mistakes which could result in them losing their capital. Therefore, if you are just starting out your stock market trading or investment journey or are an experienced trader or investor in this field, there are some tips or points you should keep in mind so that your stock market growth is always on the rise.
Best Share market tips to keep in mind
Here are some of the share market tips which are handy for all levels of stock market traders and investors irrespective of their capital and their experience in the stock market.
1). Understand the basics of the market
Before investing or trading in the stock market it is important to understand certain aspects related to it such as the market trends, the economy, and most importantly the companies you are interested in. Before investing in a company, you should go through the financial statements of the company and the important ratios to decide whether you should invest in it.
2). Diversify your investment
This is one of the most important share market tips for beginners as the old saying goes that "Never keep all your eggs in the same basket", it works well in the stock market as well. While investing in the stock market, it is advisable that you should invest in stocks of different sectors as if one sector goes down, your investment in the other sector could safeguard your portfolio returns.
3). Identify your style
In the stock market, There are different types of trading for you. Trading is riskier as compared to Investing as the time frame is shorter in trading which brings in market volatility into play in a more prominent manner whereas investing is a long-term process and safer than investing.
4). Don't follow market trends and tips blindly
One common mistake we all make in the stock market is following market trends and tips blindly, which more often than not results in people losing their money. It is always better to conduct your own research before investing in or trading in a particular stock.
5). Understand your risk tolerance and goals
In the stock market, it is important to identify your trading goals and assess your risk tolerance as it helps you to pick stocks that suit your investment style and objectives and gives direction to your stock market journey.
6). Refrain from making emotional decisions
One of the biggest obstacles that stop an investor or trader from making profits in the stock market is the picking of stocks based on emotions. Most of the time people end up buying to which they have an emotional attachment rather than going through its fundamentals that result in losses for an investor.
7). Conduct your own analysis and identify potential sectors
Before investing in the stock market, it gives you an advantage if you conduct your own analysis and identify sectors that have the potential to grow which will give you multifold returns in the future. For example, those who want
8). Put StopLoss to safeguard your investments
Most Traders don't know what is stoploss. But stop loss work as the most important share market tips for beginners Buying a stock with a stop loss means you sell it at a point below the entry price, regardless of how much the market falls. For traders, stop loss is a very powerful tool for limiting their losses in trading. This is an advance order that enables traders to sell shares at a specific price if the share price reaches that level.