Top Jewellery Stocks In India To Buy in 2023
Top Jewellery Stocks In India To Buy in 2023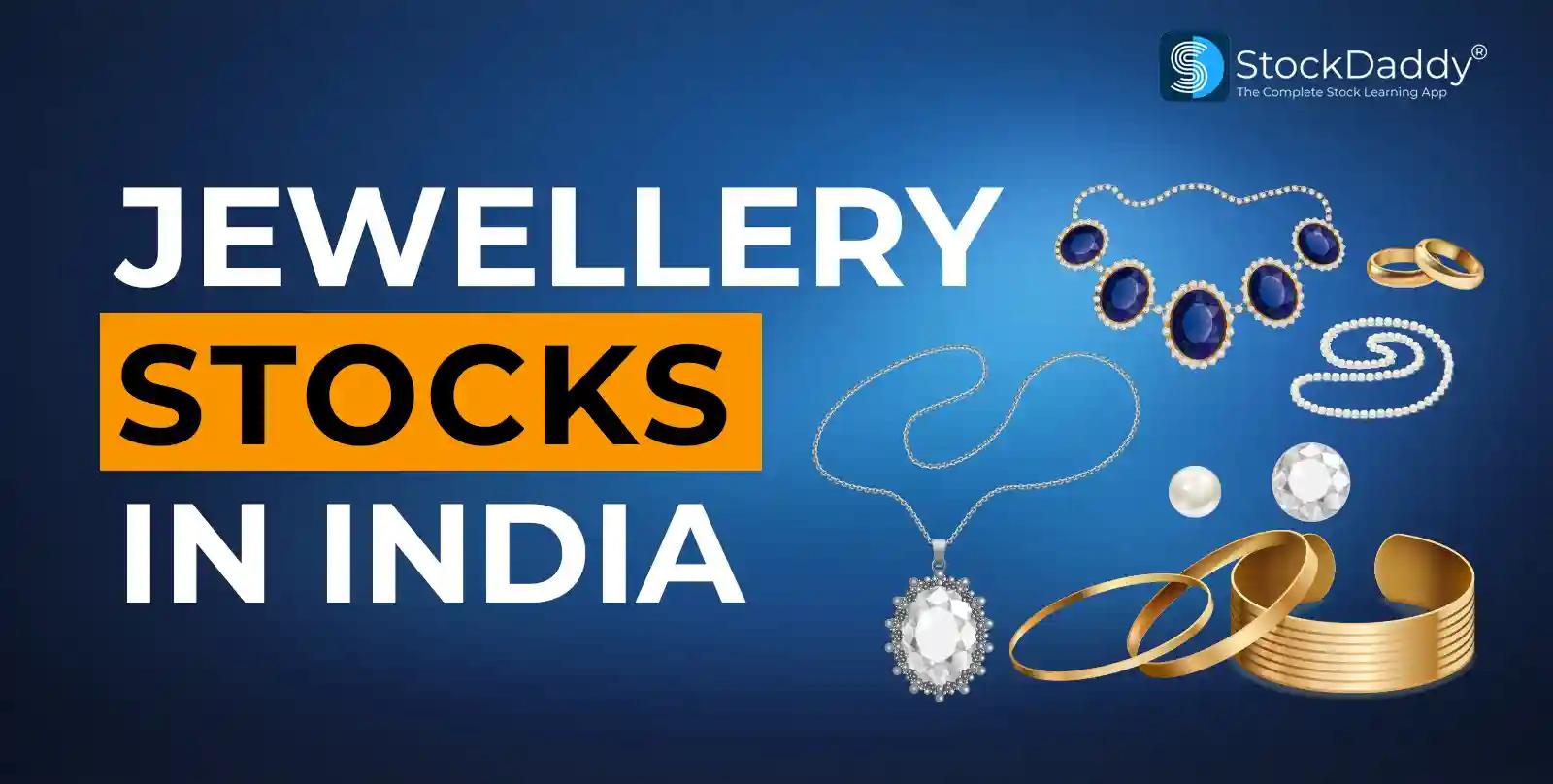 Investing in the Indian jewellery sector can be a golden opportunity for investors looking for stability and growth. India has a rich cultural affinity for jewellery, making it one of the world's most significant consumer markets for ornaments and precious metals. In this article, we will explore the prospects and potential of jewellery stocks in India, with a focus on five key players: Titan, PCJ Jewellers, Kalyan Jewellers, Tanishq, and Senco Gold.
Investing in jewellery stocks for the long term can reap exponential returns, therefore you should invest early in the stock market to leverage the power of compounding. jewellery stocks in India are the best share market tips for the investor to invest in the share market.
Get stock market courses for free by opening a demat account with stockdaddy, know how to open demat account
Top Jewellery Stock in india
An Overview of Leading Jewellery Companies Listed in the Indian Stock Market. These Jewellery Stocks are good stocks for long term investment. you should know the Important ratios in stock market. The following factors are what make the best Jewellery stocks.
1. Titan Company Limited
Titan Company Limited, a part of the Tata Group, is one of the most renowned names in the Indian jewellery industry. Titan's jewellery division is particularly noteworthy with a presence in various segments, including watches, eyewear, and fragrances. Titan's jewellery brands include Tanishq, Mia, and Zoya, catering to a wide range of consumer preferences.
Why Invest in Titan:
A. Market Leader: Titan's Tanishq brand is a market leader, known for its exquisite and high-quality jewellery, backed by the trust of the Tata Group.
B. Innovation: The company consistently introduces new and innovative designs, attracting a broad customer base, from traditional to contemporary consumers.
C. Diversification: Titan's business diversification beyond jewellery provides a cushion against industry-specific risks.
D. Pan-India Presence: The company has an extensive retail network, making its products accessible to a vast customer base.
E. Ethical Practices: Titan is committed to ethical sourcing and responsible business practices, which align with the changing consumer values.
2. PCJ Jewellers
PC Jeweller is a Delhi-based jewellery company that has gained popularity for its wide range of gold, diamond, and silver jewellery. Founded in 2005, PC Jeweller has expanded its presence across the country and carved a niche for itself in the Indian jewellery market.
Why Invest in PCJ Jeweller:
A. Strong Retail Presence: PC Jeweller operates through a vast network of showrooms across India, making it a prominent name in the local market.
B. Competitive Pricing: The company focuses on providing competitively priced jewellery, which appeals to budget-conscious consumers.
C. Diverse Product Range: PCJ Jeweller offers a broad range of jewellery, from traditional to contemporary, meeting various customer preferences.
D. Growth Potential: With the Indian jewellery market's continued growth, PCJ Jeweller is well-positioned to benefit from this expansion.
E. Transparency: The company is known for its transparent pricing policies, which can enhance customer trust.
3. Kalyan Jewellers
Kalyan Jewellers is another prominent player in the Indian jewellery market. Established in 1993, it has since grown to have a strong presence in various parts of India and the Middle East. Kalyan Jewellers offer a diverse selection of jewellery items, including gold, diamond, and gemstone jewellery.
Why Invest in Kalyan Jewellers:
A. Wide Geographic Footprint: Kalyan Jewellers has a significant presence in India and the Middle East, tapping into both domestic and international markets.
B. Strong Brand Recognition: The brand has gained recognition for its craftsmanship and quality, which appeals to a broad customer base.
C. Celebrity Endorsement: Kalyan Jewellers has leveraged celebrity endorsements, adding to its brand appeal and visibility.
D. Quality Assurance: The company follows stringent quality control measures, ensuring the purity and authenticity of its products.
E. E-commerce Expansion: Kalyan Jewellers is actively expanding into the e-commerce space, catering to the growing online jewellery market.
4. Tanishq (Tata Group)
Tanishq, a brand under Titan Company Limited, is a name synonymous with trust and quality in the Indian jewellery industry. A subsidiary of the Tata Group, Tanishq has been a pioneer in bringing transparency and innovation to the sector.
Why Invest in Tanishq:
A. Tata Group Backing: Being part of the Tata Group lends immense credibility to Tanishq, making it a preferred choice for many customers.
B. Hallmarked Jewellery: Tanishq follows stringent quality standards, offering hallmarked and certified jewellery, providing peace of mind to buyers.
C. Contemporary Designs: Tanishq combines traditional craftsmanship with modern designs, catering to a wide range of tastes.
D. Ethical Practices: The company places a strong emphasis on ethical sourcing and sustainable business practices.
E. Retail Network: Tanishq has a vast retail network across India, ensuring easy accessibility for consumers.
5. Senco Gold
Senco Gold & Diamonds is a Kolkata-based jewellery retailer known for its artistic craftsmanship and a wide range of jewellery options, including gold, diamond, and gemstone pieces.
Why Invest in Senco Gold:
A. Rich Heritage: Senco Gold has a rich legacy of over eight decades, which has helped it build a loyal customer base.
B. Artistic Designs: The company is known for its intricate and artistic designs that resonate with the cultural sentiments of the region.
C. Regional Focus: Senco Gold primarily caters to the eastern part of India, providing an opportunity for growth and expansion into other regions.
D. Competitive Pricing: The company offers competitively priced jewellery, making it accessible to a broad customer base.
E. Customer Engagement: Senco Gold actively engages with its customers through loyalty programs and events, enhancing brand loyalty.
Market Outlook for Jewellery Stocks in India
Investing in jewellery stocks in India can be a lucrative opportunity due to several factors:
Cultural Significance: India's deep-rooted cultural affinity for jewellery ensures a steady demand for ornaments and precious metals.
Wedding Market: Weddings in India are lavish affairs, driving significant demand for gold and diamond jewellery, especially during the wedding season.
Rising Disposable Income: As disposable income levels rise in India, consumers are willing to spend more on jewellery, including premium and designer pieces.
Investment Option: Gold, in the form of jewellery, is considered a traditional and safe investment in India, providing a hedge against inflation and economic uncertainties.
Ethical Sourcing: Consumers are increasingly concerned about ethical sourcing and sustainable practices, creating an opportunity for companies that adhere to these standards.
Online Presence: The growing trend of online jewellery shopping further widens the customer reach and provides an additional avenue for revenue.
Risks and Challenges
While jewellery stocks in India offer substantial growth potential, there are certain risks and challenges that investors should be aware of:
1. Gold Price Volatility: The prices of precious metals like gold can be highly volatile, impacting the profit margins of jewellery companies.
2. Competition: The Indian jewellery market is highly competitive, with domestic and international players vying for market share.
3. Economic Conditions: The health of the Indian economy can influence consumer spending on non-essential items like jewellery.
4. Regulatory Changes: Changes in government policies and regulations, such as taxation on gold and jewellery, can affect the industry.
5. Consumer Preferences: Shifting consumer preferences, such as a preference for lightweight and modern designs, can impact sales for traditional jewellers.
Conclusion
Investing in jewellery stocks in India can be an attractive proposition for investors looking for long-term growth opportunities. With India's cultural significance for jewellery and the rising disposable income of consumers, the industry holds great promise. Companies like Titan, PCJ Jewellers, Kalyan Jewellers, Tanishq, and Senco Gold have established themselves as significant players in the market, each with its unique strengths and opportunities. However, investors need to conduct thorough research and stay updated on market dynamics and trends to make informed investment decisions in this glittering sector.