Best Stocks Under 100 Rs in India
Best Stocks Under 100 Rs in India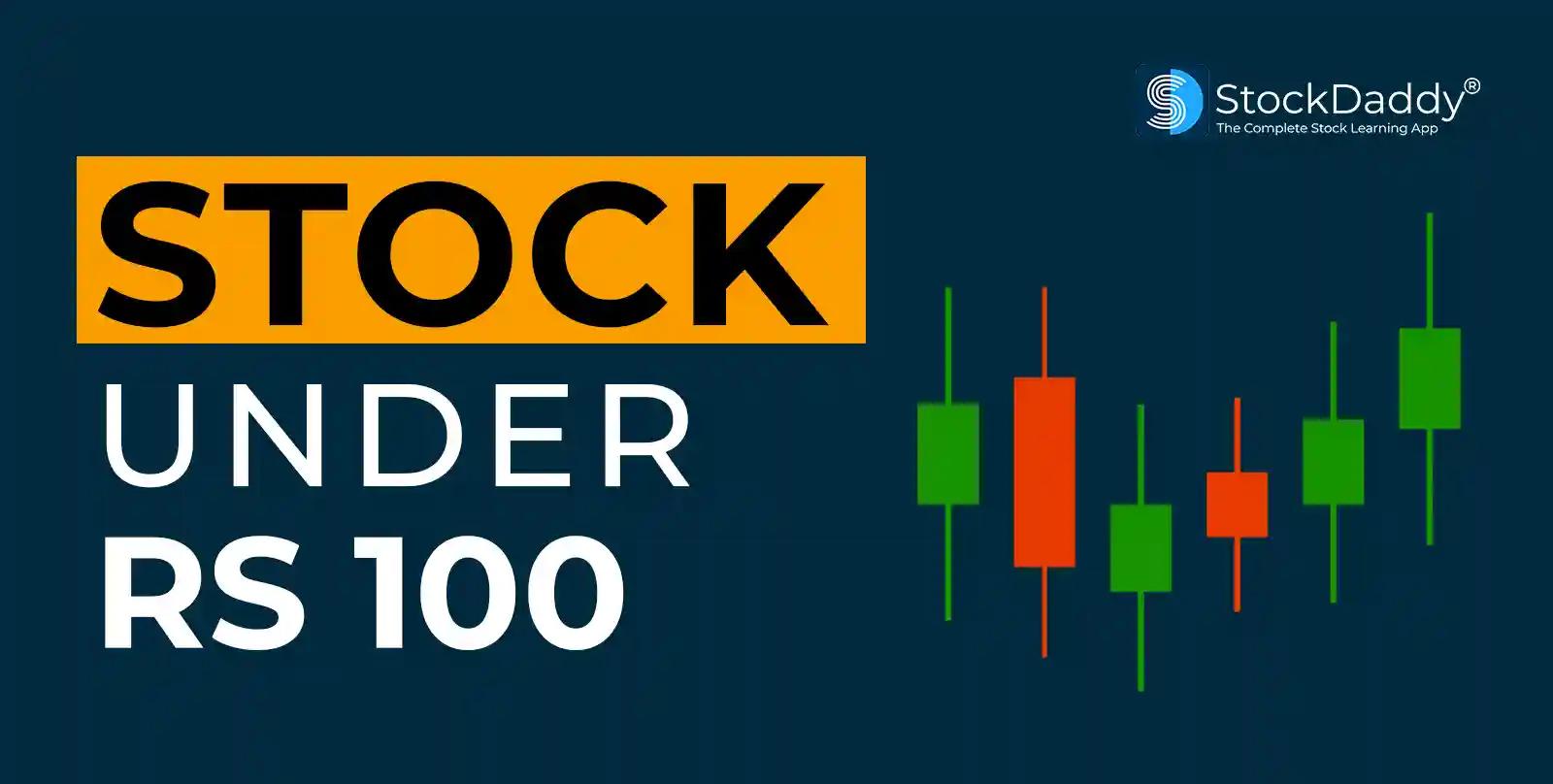 Investing in stocks under Rs.100 can be an excellent strategy for those who want to start their investment journey without breaking the bank. In this article, we'll introduce you to nine top stocks under Rs.100 that offer promising prospects. We will delve into each of these stocks, covering aspects like Industry, Current Market Price, Market Capitalization, Debt to Equity ratio, and ROCE (Return on Capital Employed).
In order to take advantage of compounding, you should invest early in the stock market, investing in best stocks to buy today under 100 rs can give you exponential returns. The best stock market tip for investors is to buy best stocks under 100 Rs.
Key Considerations for Investing in Stocks Priced Under Rs. 100
When delving into the world of investing in stocks under Rs. 100, there are several crucial factors to keep in mind.

One remarkable aspect of value investing is that it doesn't demand a substantial initial investment. Your current financial situation is indeed relevant, but not in the way you might think. What truly matters is your long-term outlook and a healthy dose of patience. Patience is the linchpin of value investing, making it accessible even for those who struggle with financial management.
The key here is to identify the best stocks priced under Rs. 100 and have the patience to let your investments flourish over an extended period. By doing so, you can steer clear of the short-term market fluctuations and focus exclusively on reaping significant, long-term returns.
Get stock market courses for free by opening a demat account with stockdaddy, know how to open demat account
1). Harnessing the Power of Compounding
Value investing introduces you to the incredible advantages of compounding. When you invest in stocks priced at Rs. 100 or less over an extended period, the returns and dividends you earn get reinvested. This simple action can lead to a substantial surge in your profit margins.

The beauty of compounding lies in its ability to transform even the tiniest investments into substantial sums over time. You won't need to put in extra effort, as your profits will work their magic for you. By holding onto the returns from your value stocks, you can keep your investment growing steadily.
2). Low-Risk Investment Strategy
Value investing has earned its reputation as one of the least risky strategies in the stock market. This is because it aligns with the principles of buying and holding, which are highly regarded by investors and shareholders alike. These principles shield investors from being overwhelmed by the daily market roller-coaster.

Purchasing stocks priced under Rs. 100 perfectly embodies the buy-and-hold approach of value investing. It allows investors to build long-term capital while steering clear of the short-term market turbulence. This low-risk strategy not only expands an investor's portfolio but also serves as a shield against hasty decisions, ill-timed mistakes, and impulsive investments.
Best Stock Picks Under Rs.100
A overview of the top stock under 100 Rs are listed on the Indian stock exchange. These best stocks for long term investment . You ought to be aware of the key stock market ratios. The stocks under 100 Rs. are determined by the following criteria.
| | | | | | |
| --- | --- | --- | --- | --- | --- |
| Stock | Industry | Current Market Price (Rs.) | Market Cap (Cr.) | Debt to Equity Ratio | ROCE |
| SavenTech | IT Services | 48.84 | 53.13 | 0 | 29.42 |
| Family Care | Consumer Goods | 7.38 | 39.87 | 0.09 | 23.23 |
| Dolat Algotech | Technology and Software | 56.85 | 1000.56 | 0.22 | 23.15 |
| BPCL Railway | Railways | 64.91 | 108.56 | 0.03 | 15.36 |
| Bliss GVS Pharma | Pharmaceuticals | 85.24 | 889.89 | 0.12 | 11.75 |
| Generic Engineer | Engineering | 55.9 | 235.55 | 0.25 | 11.32 |
| AMJ Land Holding | Real Estate | 31.04 | 127.28 | 0.03 | 6.86 |
| Patel Integrated | Logistics and Supply Chain | 13.86 | 89.53 | 0.27 | 5.99 |
| Ausom Enterprises | Small Cap | 70.25 | 95.68 | 0.47 | 2.07 |

1). SavenTech
SavenTech is a technology company with a strong track record. With a focus on IT services, they have managed to maintain a competitive edge in the industry. As of the latest data, SavenTech's stock is trading at less than Rs.100, making it an attractive option for investors looking for affordable tech stocks.

2). Family Care Hospitals:
Family Care is a well-established player in the consumer goods industry. They have consistently delivered products that cater to the daily needs of households. Trading under Rs.100, this stock is an excellent choice for investors looking for stability and steady returns.

3). Dolat Algotech
Dolat Algotech is a lesser-known stock but offers significant growth potential. The company operates in the technology and software sector. With a stock price below Rs.100, it's a hidden gem that is worth exploring.

4). BPCL Railway: A Railways-Related Investment Option
BPCL Railway is connected to India's extensive railway network. Investing in railways can be a lucrative decision, and BPCL Railway, priced under Rs.100, provides an accessible entry point into this sector.

5). Bliss GVS Pharma: A Healthcare Stock for Your Portfolio
Bliss GVS Pharma is a pharmaceutical company with a focus on healthcare. They have a diverse product portfolio that spans across various medical segments. As a stock under Rs.100, it's a great addition to a healthcare-focused investment portfolio.

6). Generic Engineer: A Go-To for Low-Cost Engineering
Generic Engineer is a player in the engineering industry. They provide affordable solutions without compromising on quality. For investors interested in engineering stocks under Rs.100, Generic Engineer is a go-to option.

7). AMJ Land Holding: Real Estate Potential Under Rs.100
Real estate can be a rewarding investment. AMJ Land Holding, priced below Rs.100, is an attractive option for those looking to explore the real estate market without a substantial initial investment.
8). Patel Integrated: An Integrated Play in Affordable Stocks
Patel Integrated operates in logistics and supply chain management. With a stock price below Rs.100, it presents an integrated play in affordable stocks, catering to the logistics needs of various industries.

9). Ausom Enterprises: Small Cap Stock with Big Potential
Small-cap stocks often offer significant growth prospects. Ausom Enterprises is no exception, trading below Rs.100. They operate in a segment that has substantial growth potential, making them an intriguing investment option.
Conclusion
Investing in stocks under Rs.100 can be a strategic choice, especially for beginners and those looking to diversify their portfolio. Each of the mentioned stocks offers unique opportunities in various industries, and the table provides a quick overview of their key financial metrics. It's essential to do thorough research and consider your investment goals and risk tolerance before making any decisions.