Best Blue-Chip Stocks in India to buy in 2023
Best Blue-Chip Stocks in India to buy in 2023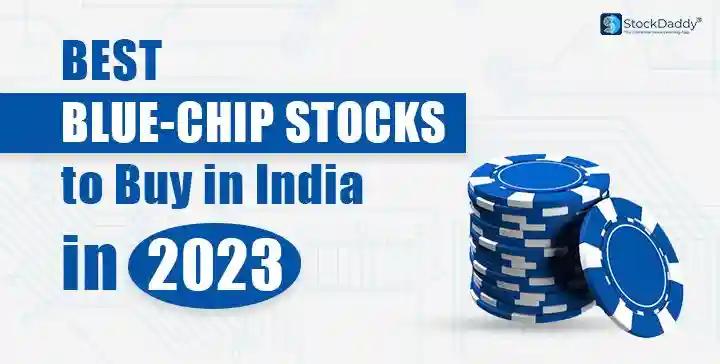 What are Blue Chip Stocks?
Blue Chip stocks are the stocks of those companies which have been in the business for years are well-reputed fundamentally strong companies and have been showing consistent performance for years now. The term Blue Chip Stocks was coined by an employee of Dow Jones named Oliver Gingold, who named the stocks trading over $200 as blue chip stocks. He took reference of blue chips from the Poker as they were the most precious chips in the game.
Today, blue chip stocks aren't only those stocks that are trading at a higher value but are those with huge market capitalization. These are Fundamentally strong stocks that are market leaders in their own industries. For Investors, these Blue chip stocks are best stocks for long term investment.
Since blue chip stocks are fundamentally strong stocks and there are safer options for government employees to invest in share market.
Features of Blue Chip Stocks
While blue-chip stocks do not have a specific definition or criteria, there are certain common features that make a company blue-chip and you should know the Important Ratios You Must Know Before Investing. The following factors are what make a blue-chip stock:
1). Large market capitalization: Blue chip stocks mostly belong to large cap companies that have existed for a long time. In the stock market companies are generally classified as small-cap, mid-cap, and large-cap based on their market share. Blue-chip are mostly large-cap companies having a market cap of Rs.20,000 crore or more. Get to know the Top 10 Companies In India By Market Capitalisation
2). Industry leaders: Blue chip companies are generally industry or sector leaders. Their strong financials and consistent performance over the years have made them leaders in their respective industries.
3). Less volatile: Blue-chip companies are financially strong companies having consistent earnings over the years. Their diversified business and strong performance make their stock less volatile and less affected by market conditions.
4). Dividend paying stocks: Most of the blue-chip stocks pay dividends to their shareholders and that's one of the major reasons why blue-chip stocks are considered a safe investment avenue as shareholders get dividends on a consistent basis. Get to know the highest dividend paying stocks in India
What are the factors to keep in mind before investing in Blue Ship Stocks?
These are some of the important factors which investors must keep in mind while looking out for blue-chip stocks:
1). Market Share: Every company operates in a specific sector or Niche, as you would call it. A company may have a diversified business but there would be one sector or industry in which a business specializes. A blue-chip company must have a dominant market share in its niche industry. For example-
ITC- Tobacco business forming its core
L&T- L&T mainly deals in the construction business.
2). High Profitability: Blue chip stocks enjoy a competitive advantage in the market. This ensures relatively higher profitability for blue chip stocks. Before investing in a blue-chip stock, an investor should look into the profitability of a business and if a business enjoys high profitability, then you should consider that stock for investing in long-term.
One of the best indicators of high probability is ROCE (Return on Capital Employed) which measures the profitability of a company and the efficiency with which it uses its capital employed.
3). High Dividend Payouts: Consistent dividend payouts are a vital indicator of blue-chip shares as it shows how confident the company is about their future net cash flows.
Consistent dividends make blue-chip stocks very likable for investors interested in short-term income generation. Coincidently most of the large investors also like "consistent and high dividend-yielding stocks" and it is one of the way to generate passive income from dividends.
4). Price Stability: Price stability of blue-chip stocks in falling markets is one of its biggest benefits. It does not mean that the price of blue-chip stocks does not fall when the index is falling. Its price will also fall but the price fall will be slower and price recovery will be faster.
5). Economic Moat: Blue-chip companies are big daddies of their respective industries and because of their dominant position in the market and other benefits such as high market share and strong fundamentals gives them the pricing power which is known as economic moat.
6). Management of the company: The main decision-maker of a company is their top management, and their decisions affect the performance and future of a company. That is why it's very important to know about the management of the company you are investing in and their future plans regarding the company.
7). Valuation: Before investing in a company, it becomes very important to buy the shares of a company at the fair price or when it is undervalued because if you end up paying higher for the stocks then the returns from that stock may not be what you expected.
Therefore, it becomes important to find the intrinsic value of the stock and how the company is performing in comparison to its competitors because while investing it is important to pick the stocks at the right value.
Before selecting any stock you need to know the do's and don't of investing
List of Best Blue Chip Stocks in India in 2023
The following are some of the top blue chip stocks India as these stocks of the companies which are market leaders in their respective industries and enjoy dominant market share because of their past performance and strong financials.
1). Reliance Industries Ltd
Sector: Refineries
Financial Standpoint (In crores)
2). Tata Consultancy Services Ltd.
Sector: IT – Software
Financial Standpoint (In crores)
3). Hindustan Unilever Ltd.
Sector: FMCG
Financial Standpoint (In crores)

4). Infosys Ltd.
Sector: IT- Software
Financial Standpoint (In crores)
5). HDFC Bank Ltd.
Sector: Banks- Private sector
Financial Standpoint (In crores)
6). Asian Paints
Sector: Paints/Varnishes
Financial Standpoint (In crores)
7). Coal India Ltd.
Sector: Mining and Mineral Products
Financial Standpoint (In crores)
8). Maruti Suzuki India Ltd.
Sector: Automobile
Financial Standpoint (In crores)
9). Lupin
Sector: Pharmaceuticals
Financial Standpoint (In crores)
10). Bharti Airtel Ltd.
Sector: Telecommunications
Financial Standpoint (In crores)
Why Should you invest in Blue Chip Stocks?
Although blue-chip stocks are shares of companies that are market leaders in their respective industries, they have pros and cons associated with them and we should assess them before investing in these companies.
These are mostly overvalued companies because these are established companies and people have already realized their potential and most of them have grown multifold times already. Therefore, people should understand that although the share prices of these companies will be less volatile, its growth would be slower as compared to growth stocks.
These types of companies are best for those who at that stage in their life where they don't want to take high risks and at the same time stable returns. At the same time, those with high-risk acumen can choose these stocks for diversifying their portfolios.
FAQ
Que 1. Are blue chip stocks safe?
Ans- A blue-chip stock is a safe investment. Generally, these companies are respected in the stock market and have stable financial records. These stocks pay good returns and provide a cushion to investors when the stock market hit by recession, inflation, and economic stagnation.
Que 2. What is blue chip vs growth stocks?
Ans- The term "blue chip stock" refers to the stock of a well-established company that is publicly traded and has historically produced profits for its stockholders. Some examples of blue-chip stocks are Hindustan Unilever Limited, Tata Consultancy Services, and Reliance Industries.
Growth stocks, on the other hand, represent shares of companies that are expected to grow at an above-average rate compared to the broader market or their industry peers. These companies are often in their early stages or operate in rapidly expanding industries.


Ques 3. Is it worth investing in blue chip stocks?
Ans- Even though blue-chip stocks are slightly expensive, they offer a great return on investment. Blue-chip stocks make sense to diversify your investment portfolio when you are fond of taking risks.