Highest dividend Paying Stocks in India For 2023
Highest dividend Paying Stocks in India For 2023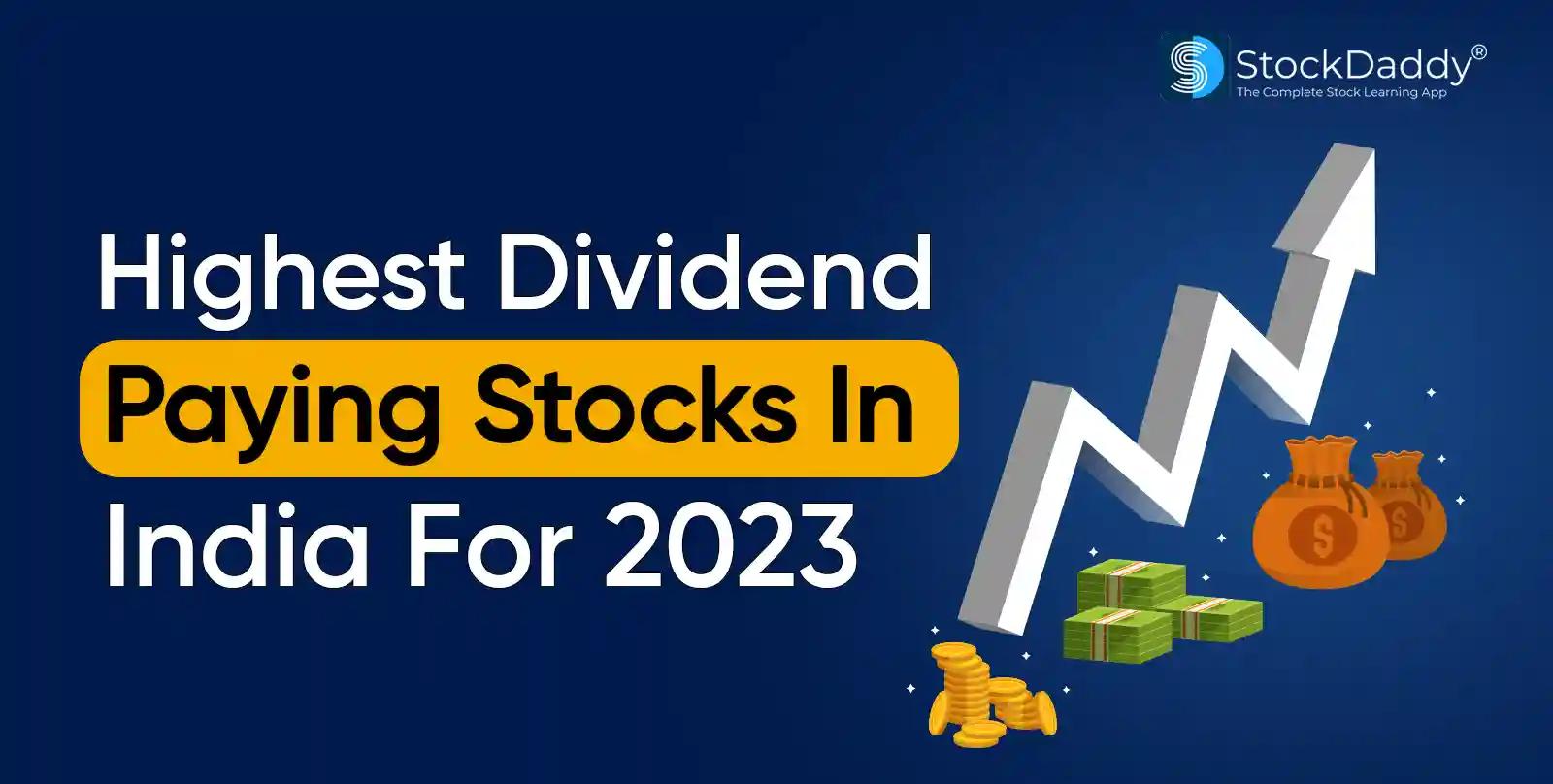 In recent market times, when the fear of recession in 2022 - 2023 is looming around major economies of the world and the market returns from your investments are very volatile. In such a situation seasoned investors target the Highest dividend paying stocks in India these are high-quality companies that have strong financials.
Most seasoned investors target such stocks that pay dividends on a consistent basis as they have a strong cash-generating mechanism because of which they are able to pay consistent dividends to their investors which is a popular way to generate passive income from dividends.
For most companies, the dividend decision is to pay yearly or sometimes quarterly dividends to their investors on a consistent basis from their profits, so it's better if before investing you learn the Dos and Don'ts of Investing. Before we talk about the highest dividend-paying stocks in India, let's understand what a dividend is.
What is a Dividend?
The dividend is a part of the profit which a company distributes among its shareholders in the form of cash.
Dividend Example: As on Nov 17, 2022, Vedanta Announce its dividend date, and Ex-Date is 29-11-2022. The dividend is divided among its shareholder and Vedanta issued a 17.50 dividend per share.
In the share market, one could earn in two ways:
1). capital appreciation
2). earning dividends from your investments.
A company has two options to utilise its profits:
1). Reinvest the entire profit: One is that they could reinvest the entire profit they earn in a year in the company or keep a portion of the profit with themselves.
2). Distribute a portion of their profits among their shareholders: This part of the profit which the company distributes among the shareholders is known as dividends.
The highest dividend paying stocks give dividends to their shareholders from time to time out of their profits which is mostly in cash but also can be in the form of stocks or other property.
As government employees can also invest in share market with certain restrictions for them these highest dividend-paying stocks can be one of the best opportunities to invest in.
Who take Dividend decisions in the company?
Dividend decisions are recommended by the management based on their profits and further needs of funds. Companies are not liable to pay dividends to their equity shareholders whereas preference dividend is to be paid before equity shareholders.
You also need to know the difference between equity and preference shares.
Important dividend metrics to keep in mind
Following are the two most important metrics to keep in mind before investing so that you are aware:
1). Dividend Yield:
Dividend yield is calculated by dividing a company's annual cash dividend by the current share price of the company.
Dividend Yield (Stock) Formula = Annual Dividends per Share/ Price Per Share
2). Dividend Payout Ratio:
This ratio is calculated by dividing the total dividends paid by the company to its shareholders by its total earnings in that year.
DPR Formula: Dividend Per Share/ Earnings Per Share
Another important thing that you must consider while choosing the companies is that they should be fundamentally strong companies fulfilling the following criteria:
Market cap > Rs. 5,000 crores
Return on Equity > 15%
Debt to Equity < 1
Look out for the dividend yield of the last 5 years of the company as it may turn out that the company has just paid regular dividends to their shareholders this year only and the company's overall dividend-paying record is not that great.
The list of highest-paying dividend stocks in India, 2022, according to the five-year average dividend yield, and the numbers covered in the list are taken according to the prices of the stocks till 31st December 2022.
The top 5 Highest dividend paying stocks in India 2023 are:
1). Indian oil
Indian Oil is the highest dividend paying stock in India and it is the largest oil and gas PSU in India. They are at the 212th position in the Global Fortune 500. Indian Oil's last 5-year average dividend yield till 31st December 2022 is 14.94%.


Indian Oil Corporation has around 50% market share in the energy products space which includes petrol, aviation fuel, LPG, diesel, etc which makes Indian Oil strategically important for India's energy requirements.


Indian Oil's network consists of more than 32,000 petrol stations. The company's biggest weakness is its PSU status and zero pricing power as the government controls the fuel prices to a larger extent which causes a strain on the company's working capital and the balance sheet.
2). Vedanta Ltd
Vedanta is India's biggest privately owned metals and mining industry. It is a globally diversified natural resources company that deals in the exploration, production, and sales of zinc-lead-silver, iron ore, steel, copper, aluminum, power, oil, and gas.


Vedanta's Ltd. dividend yield till 31st December 2022 is 10.90% over the last 5 averages.


Vedanta metals and mining industry has 40% market share and is also the largest alumni producer which diversifies the company's range and at the same time gives them protection from the metal industry's risk exposure.
3). Coal India Ltd
Coal India is a state-owned coal mining corporation and it is the single largest coal producer in the world. It is a MahaRatna PSU that has 82% market share in India's coal production.


Coal India's last 5 years average dividend yield till 31st December 2022 is 8.25%. Their near-monopoly status in coal production gives them strategic importance to the Indian industrial sector to cater to their energy requirements.


Coal India has India's 48% coal reserves and caters to 83% of the domestic coal demand, making this company strategically very important to critical sectors such as coal, steel, cement, power, and many more.
4). Indus Towers
Indus Towers was previously known as Bharti Infratel Limited and it is India's biggest telecom tower company.
The Indus Towers is a telecom tower infrastructure service provider that deploys, owns, and manages telecom towers and communication structures, for various mobile operators.


Indus Towers dividend yield till 31st December 2022 is 7.62% over the last 5-year average. As of March 2021, Indus Towers had 1.85 lakhs towers and 3.35 lakhs co-locations across 22 circles.


Telecom tower is a capital-intensive industry and to expand its coverage area they will have to keep constructing new towers in under-penetrated areas.
5). Hindustan Zinc Limited


Hindustan Zinc is one of the world's largest and India's only integrated Zinc, Lead, and Silver producers, which provides the cheapest zinc in India. Hindustan Zinc is a subsidiary of Vedanta Limited.


Hindustan Zinc's last five years' average dividend yield till 31st December 2022 is 7.16% and the company captures 75% market share in the domestic zinc market by volume in India which gives the company a near monopoly status.


Along with it, the company has long-term mining agreements with the government of India and a net reserves of 449 million with which the company can carry out its operations.


The company's biggest con is the over-dependence on the steel sector. 70% of the use of domestic zinc is in the steel sector because of this companies like Hindustan Zinc are exposed to the cyclicality and risks of the steel sector.
Final Thoughts
These are among the top dividend-paying companies in India and a good option for you to give to your near and dear ones, so know how you can gift stocks.


You also need to keep in mind that regular dividends do not ensure that it is best suited for investment as companies do pay dividends out of their reserve profits even if they are incurring losses so it is always better to do proper research about the company's history, financial performance, important ratios before investing in companies on a long-term basis.
FAQ
Ques 1). Which are the Highest Dividend Paying stocks in India in 2022?
Ans: Here are the top 5 Highest dividend paying stocks in India in 2022 are:
1). 3M India
2). Britannia
3). Oracle Finserv
4). Vedanta
5). Sanofi India