Who will be the next Big Bull of Stock Market?
Who will be the next Big Bull of Stock Market?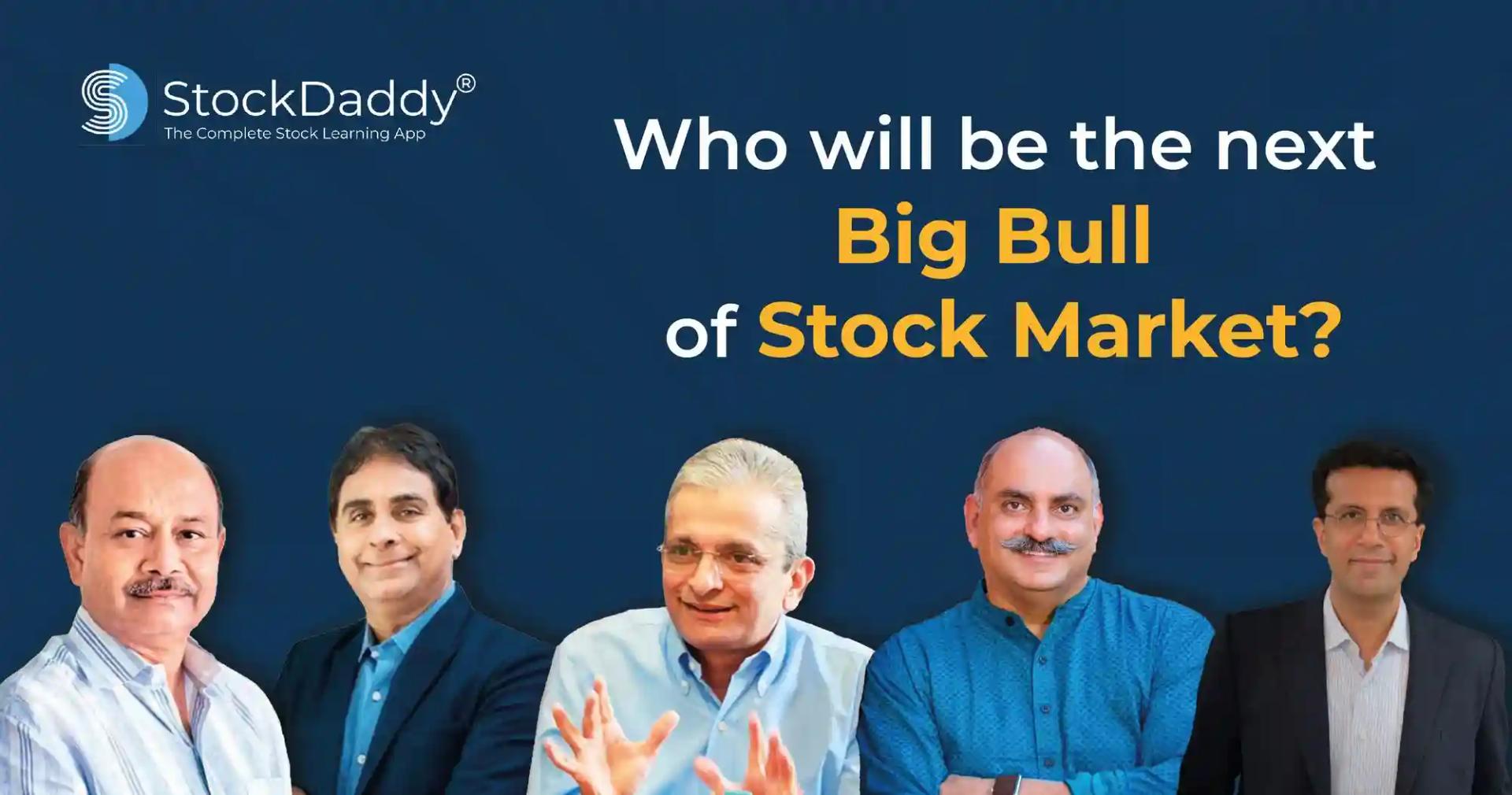 With the passing away of Rakesh Jhunjhunwala, the Indian stock market has been left desolate. It's not looking like anyone is going to take his place in the near future. He was popularly known as the Big Bull of India.
Before Rakesh Jhunjhunwala, Harshad Mehta was the first big bull of the Indian stock market. It is reported that Harshad Mehta's net worth was approximately $475 Million, which was roughly INR 3542 crores. On 30 December 2001, Harshad Mehta's death raised many questions about the Police department.
Many investors earned billions of rupees in the stock market but the kind of popularity that is enjoyed by Rakesh Jhunjhunwala is second to none. Even the Prime Minister of India Narendra Modi regarded him very highly for his confidence in the Indian economy.
Who is a Bull in Stock Market?
The bull always attacks from the bottom to up, that's why when the stock market is continuously rising then it is referred to as a bull market. So, when an investor feels that a particular stock will go up then it means that the investor is bullish on that stock.
Why Rakesh Jhunjhunwala is the Bigbull?
Rakesh Jhunjhunwala was a big investor, his buying of stocks creates a buzz in the stock market regarding that stock resulting in an increase in the price of that stock.
Rakesh Jhunjhunwala bought 4.4 crores shares of Titan at the price of Rs. 3 per share in 2003 at a time when the company was underperforming but Rakesh Jhunjhunwala took a visionary bet on Titan.
He stayed invested in those shares despite the fluctuations in the stock prices and the current value of the share is Rs. 2400 per share and the net worth of Rakesh Jhunjhunwala's holding in Titan is around 11,000 crore.
Learn the Trading strategies like the Big Bull of the stock market with the Technical Analysis Course
Prospective Future Big Bulls
Many experts believe that currently, there is a stark difference between Rakesh Jhunjhunwala and any other investor in the quest to become the next big bull. Let's find out the top 5 Indian investors who are in contention to become the next big bull after Rakesh Jhunjhunwala. You also need to know the top lesson you can learn from Rakesh Jhunjhunwala


1). Radhakishan Damani
Radhakishan Damani formally started his stock market journey at the age of 32 when his father died and before that he was in the ball-bearing business. While he began his stock market journey as a broker, he soon realized that broking does not make as much money as speculating does.
In 1989, Radhakishan Damani opened his brokerage firm called Brightstar from which he made a profit of crores by trading, and during both the 1991 Harshad Mehta and 2001 Ketan Parekh scam, he earned crores of profits by trading.
In 2002, Radhakishan Damani started his own retail chain known as D-Mart which today is India's most profitable retail company and the current total net worth of Radhakishan Damani is Rs. 1.80 lakhs of crore. with the demise of Rakesh Jhunjhunwala, Damani's likely to be the trustee of late Rakesh Jhunjhunwala Trust.
As we have seen in scam 1992, Radhakishan Damani and Rakesh Jhunjhunwala, both were part of bear cartel which was operated by the Manu Manek Mundra.

Radhakishan Damani Investment Strategy

Radhakrishan Damani soon he realized that trading is a riskier proposition, so Radhakrishan Damani started investing by slecting good stocks for long term and earned multiple returns in HDFC Bank, Gati, Blue Dart, Sundaram Finance, and other such stocks by investing in them for long term.  
Radhakrishan Damani style of investing is very similar to Rakesh Jhunjhunwala as he is also quite bullish on Indian companies which is reflected in his style of investing that makes him a frontrunner to be the next Big Bull.
Learn Trading and Investment Strategy with top Stock Market Courses.
Top 5 Stock Holding of Radhakrishan Damani
2). Mohnish Pabrai
Mohnish Pabrai a computer Engineer by profession after post-retirement Mohnish Pabrai started his own IT company Transtech which he sold for 20 million dollars in 2000. After reading about Warren Buffet in a book, he got inspired by his investing style and started his investment journey.
Mohnish Pabra Investment Strategy:
Mohnish Pabra is a value investor and follows the investment principles of Warren Buffet, Charlie Munger, and Benjamin Graham. As an investment opportunity, India is currently an attractive option, and there is plenty of scope for the future. Current net worth of Mohnish Pabrai is around Rs. 1,386 crores.
Top 3 Stock Holding of Mohnish Pabrai
3). Ashish Dhawan
Ashish Dhawan is a famous investor, businessman, and philanthropist. Apart from being a successful investor, he is a Yale graduate and has an MBA from Harvard business school.
Today, his company Chrys capital is India's leading private equity fund.

Ashish Dhawan's portfolio consists of 14 stocks with a net worth of Rs. 1,984 crores. He is a meticulous investor with a zeal to serve the nation as he also played a major role in establishing India's first Liberal Arts University, Ashoka University.
He believes that without improving the education system, India cannot become a high-Income country. Ashish Dhawan is playing his role in the growth of the country from both the social and economic fronts.
His contribution towards nation-building is noteworthy and his shrewd investment strategies make him a worthy contender to become the next big bull.
Top 5 Stock Holding of Ashish Dhawan

4). Nemish S Shah
Mr. Nemish Shah is an investment banker and financial advisor who is known for giving sought-after investment views and advice on investment. He is also the co-founder and director of the Asset management company ENAM.
Nemish S Shah's investment strategy
Nemish S Shah's investment strategy is quality over quantity as he focuses on investing in fewer companies but diversifying these investments in various sectors. Over a period of 30 years, Nemish Shah has developed ENAM into a leading asset management company.
Currently, Nemish Shah's portfolio holds 6 stocks well diversified across different sectors with a net worth of Rs. 1,588 crores.
Nemish Shah's style is different from other investors on the list as his investment approach is more risk averse and he tends to favor established large-cap companies which play a major role in the Indian growth story hence his investment style makes him a prospect to become the next big bull.
Top 5 Stock Holding of Nemish S Shah

5). Vijay Kedia
Born in a stockbroking family, Vijay Kedia considers the stock market to be his first love. He started his stock market journey as a trader but in 1989 he decided to give up trading and started focussing on investing. His investment strategy mainly focused on value investing.
He focussed on the management of a company before investing in a company because he felt that management is the driving force of a company and its success or failure depends largely on the management of the company.


Vijay Kedia's Investment Strategy

Vijay Kedia's portfolio currently holds 16 stocks and the total net worth of his portfolio is Rs. 690 crores. His investing philosophy is to pick small and mid-cap companies with strong fundamentals and keep investing in them for the long term. As those companies will grow with the economy of the country Vijay Kedia's net worth will also grow.

Picking small and mid-cap companies and expecting their growth with that of the Indian economy mirrors the approach of Rakesh Jhunjhunwala and if the majority of his bets turned out to be a multi-bagger then in the future, he could be the next big bull.


Top 5 Stock Holding of Vijay Kedia

These are the top 5 biggest investors of the Indian Stock market who are investing in the market with the aim of not only earning profits but also driving the growth of the economy by investing in growth companies and staying invested in them for the long term.
All of them are bullish on the Indian economy and believe in the Indian growth story. If and all we get our next big bull there are high chances that it's going to be someone from them.