What are stock exchanges and list of stock exchanges in India?
What are stock exchanges and list of stock exchanges in India?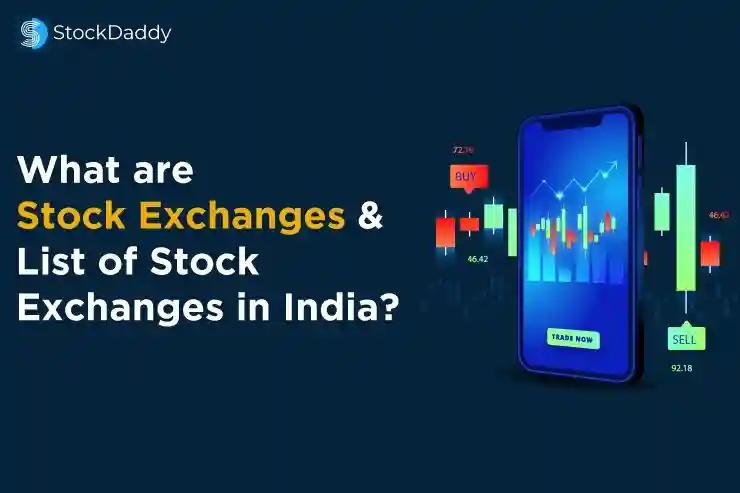 What is Stock Exchange?
A stock Market is a financial platform where the shares of different companies are publicly listed. It is a place where the trading of shares is performed in a secure and systematic way which plays a significant role to allow the smooth workflow of all financial transactions.
In this blog, you get to know the various stock exchanges registered with the SEBI in detail. Stock exchanges in India are a prime function where financial tools such as stocks, commodities, and bonds are traded. This platform allows investors to buy or sell to operate trading during the stock market fixed hours along with following SEBI's terms and conditions. Although only those companies are allowed to trade who are listed in stock exchange.
1). Bombay Stock Exchange (BSE)
The Bombay Stock Market (BSE), often known as BSE Limited, is an Indian stock exchange located on Dalal Street in Mumbai (Bombay). It was founded in 1875 and is Asia's and the world's tenth-oldest stock exchange. Five stock dealers congregated in front of Mumbai Town Hall, where Horniman Circle now stands, in the 1850s under a Banyan tree. They had to move around a lot because of the significant expansion in the number of brokers. Finally, in 1874, the brokers were able to secure a permanent address that they could call their own. In 1875, the brokers formed an official organisation called "The Native Share & Stock Brokers Association." The BSE was the first stock exchange registered by the Indian government under the Securities Contracts Regulation Act on August 31, 1957. The S&P BSE SENSEX index was created in 1986, offering the BSE a way to track the exchange's overall performance.
Chairman: Vikramajit Sen
MD & CEO: Ashish Kumar Chauhan
Number of listings: 5439
2). Calcutta Stock Exchange (CSE)
The Calcutta Stock Exchange (CSE) is Asia's oldest government-owned stock exchange, located in Kolkata, India's Lyons Range. On December 1, 1863, it was founded. SEBI has asked the Calcutta Stock Exchange to close, but the matter is pending in the Calcutta High Court, while 13 other regional stock exchanges, including the Bangalore Stock Exchange, Hyderabad Stock Exchange, and Madras Stock Exchange, have closed in the last three years as a result of SEBI's exit policy. Trading on the CSE trading platform has been suspended since 2013. Kolkata's trading activities were held under a neem tree in 1830. The Government of India awarded permanent recognition to the Calcutta Stock Exchange Ltd on April 14, 1980, under the applicable provisions of the Securities Contracts (Regulation) Act, 1956.
Chairman: Dr. Bhaskar Banerjee
MD & CEO: Shri Subrato Das
Number of listings: 2700
3). India International Exchange (India INX)
India's first international stock exchange, India INX, is a subsidiary of the Bombay Stock Exchange. It has resided at the International Financial Services Centre, GIFT City in Gujarat. BSE Limited owns it as a subsidiary. On January 9, 2017, it was launched by Indian Prime Minister Narendra Modi. On January 16, 2017, the trading operations started. It runs on the EUREX T7 technology platform, which is cutting-edge. With a turn-around time of 4 microseconds, it is the world's fastest exchange. It is open for 22 hours per day, six days a week. These hours allow overseas investors and non-resident Indians to trade at their leisure from anywhere in the world. The company's daily turnover exceeds 74,509 crores.
The bonds are listed on the India International Exchange by the Asian Development Bank. The bank raised $118 million via rupee-linked bonds in early 2020, allowing it to promote the development of India's financial market infrastructure.
MD & CEO: V. Balasubramaniam
4). Metropolitan Stock Exchange (MSE)
Under Section 4 of the Securities Contracts (Regulation) Act, 1956, the Metropolitan Stock Exchange of India Limited (MSE) is a government-owned stock exchange recognised by the Securities and Exchange Board of India (SEBI). It is controlled by the Indian government's Ministry of Finance. On December 21, 2012, the Ministry of Corporate Affairs, Government of India, declared the Exchange a "recognised stock exchange" under Section 2(39) of the Companies Act, 1956. Some of India's top public, corporate, and indigenous financial organisations are among the exchange's stockholders. The company was founded on November 7, 2008, and on January 2, 2009, SEBI permitted it to perform clearing and settlement duties for MSE trading. The company began operations on February 16, 2009.
Chairman & PID: Dinesh Kumar Mehrotra
MD & CEO: Latika S Kundu
5). National Stock Exchange (NSE)
The National Stock Exchange of India Limited (NSE) is India's largest stock exchange, with headquarters in Mumbai, Maharashtra. It is owned by several major financial institutions, banks, and insurance firms. The National Stock Market (NSE) was founded in 1992 as the country's first dematerialized electronic exchange. The NSE was the first exchange in the country to offer a contemporary, fully automated screen-based electronic trading system that allowed investors from all over the country to trade with ease. The NSE's Managing Director and Chief Executive Officer is Vikram Limaye. The NSE's flagship index, the NIFTY 50, a 50-stock index, is widely utilised as a gauge of the Indian capital market by investors in India and around the world. NSE introduced the NIFTY 50 index in 1996.
Chairperson: Girish Chandra Chaturvedi
MD & CEO: Vikram Limaye
Number of listings: 2002
6). NSE IFSC
NSE Indices Limited (previously known as India Index Services & Products Limited (IISL)) is a subsidiary of the National Stock Exchange of India (NSE) that gives indices and index-related products and services to the Indian capital markets. NSE Indices Ltd. is a subsidiary of NSE Strategic Investment Corporation Limited, which is the parent company of NSE Strategic Investment Corporation Limited. Broad-based benchmark indices, sectoral indices, fixed income, and personalized indices are among the company's approximately 100 stock indices. NSE Indices Ltd. was established to provide capital markets with a wide range of indices and index-related goods and services.
7). Indian Commodity Exchange (ICEX)
Commodity trade has a long history in India. Commodity trading in India began far earlier than it originated in many other countries. Years of foreign domination, droughts, and periods of shortage, as well as government regulations, have all contributed to a decline in commodities trading in India. In 2016, India had six national commodity exchanges, including the Multi Commodity Exchange (MCX), the National Commodity and Derivatives Exchange (NCDEX), the Indian Commodity Exchange (ICEX), the National Multi Commodity Exchange (NMCE), the ACE Derivatives Exchange (ACE), and the Universal Commodity Exchange (UCX) (UCX). Both the National Stock Exchange (NSE) and the Bombay Stock Exchange (BSE) began trading commodities in 2018. The former Forward Markets Commission (FMC), which was established in 1953, was the regulatory agency.
8). Multi Commodity Exchange (MCX)
The Multi Commodity Exchange of India Limited (MCX) is an Indian commodity exchange. It is owned by the Government of India's Ministry of Finance. It was founded by the Indian government in 2003 and is currently situated in Mumbai. It's the largest commodity derivatives exchange in India. According to the latest yearly data from the Futures Industry Association (FIA), MCX was among the top worldwide commodity exchanges in terms of the volume of futures contracts traded. On December 20, 2019, MCX released the MCX India Commodity Indices (MCX iCOMDEX) series, which follow the International Organization of Securities Commissions' global best practices (IOSCO). SEBI published operating rules for Mutual Funds and Portfolio Managers' participation in commodity derivatives in May 2019 and, as a result, granted permission to a few custodial service providers as commodity custodians.
Chairman: Saurabh Chandra
MD & CEO: P S Reddy
9). National Commodity & Derivative Exchange (NCDEX)
NCDEX is an Indian online commodity and derivatives exchange. It is owned by the Ministry of Finance of the Government of India. It is governed by an independent board of directors and operates a commodity exchange platform where market players can trade commodity derivatives. It is a government corporation that was founded on April 23, 2003, under the Companies Act of 1956, and received its Certificate for Commencement Business on May 9, 2003. It began operations on December 15, 2003.
There are a lot of things to learn about the stock market. You can become a skilled investor only in one condition is that first, you need to become a great learner. StockDaddy is an online stock learning platform where you can learn everything about the stock market.
FAQ
Ques 1). What is the oldest Stock Exchange in India?
The oldest stock exchange in India is the Bombay Stock Exchange (BSE) which was founded in 1875.
Ques 2). Which is the oldest stock exchange in Asia?
Ans. The oldest stock exchange in Asia is Calcutta Stock Exchange (CSE) was formed in 1863 but it was not recognised by SEBI. SEBI gave permanent recognition to CSE in 1980. So that's why we consider the Bombay Stock Exchange (BSE) which was formed in 1875 the oldest stock exchange in India because BSE get it permanent recognition in 1957.