Tata Steel Stock Split: All you need to know
Tata Steel Stock Split: All you need to know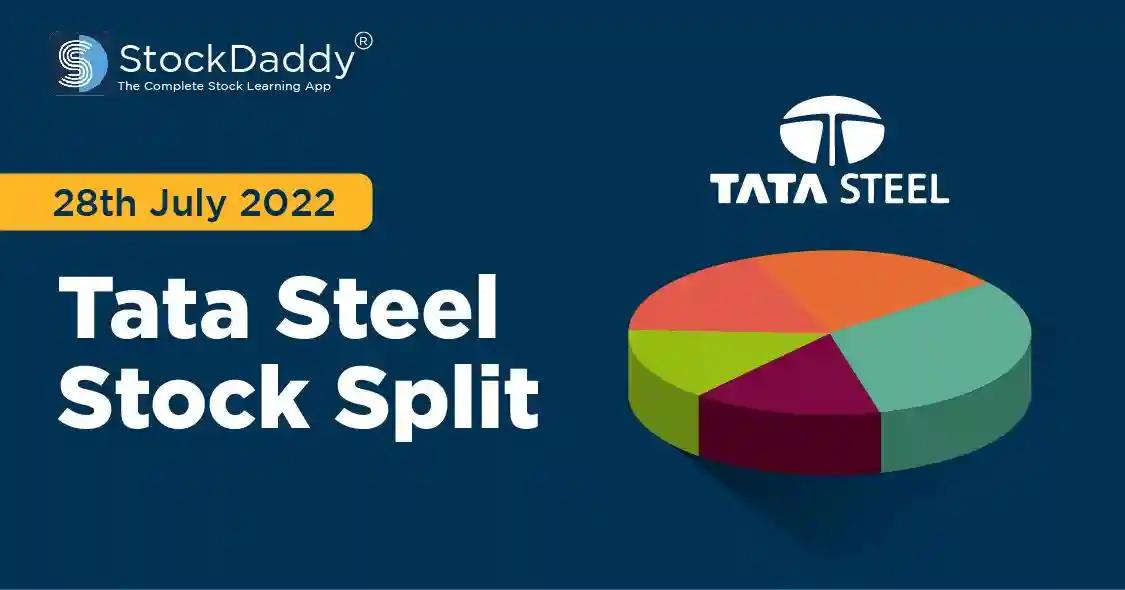 Tata Steel today split their stocks in the ratio of 1:10, which means that each share of face value of Rs10 will now split into 10 shares of the face value of Rs.1 tata steel stock split record date is 29 July 2022, which means that Tata Steel will change to ex-split today and from today onwards the share has started trading at the adjusted new price.
Since the news about the Tata steel share split broke out and the record date of the split was announced, it has created a positive sentiment among the investors towards Tata Steel which can be seen in its rising share prices.
Why did Tata Steel Stock Split?
High prices can make it difficult for small investors to buy shares of a strong company as they are valued at a premium. A share split reduces the price of a share as a high-value share is divided into equal parts at a lower price.
For example, when Tata Steel announced that they will split their stocks in the ratio of 10:1, which means that each share with face value of Rs10 will become 10 shares of Rs1. It means that 1 Share of Tata Steel which was trading as Rs960 per share, will now become 10 shares of Rs.96. Splitting the shares allows the company to increase its shareholder base without affecting the market capitalization and value of the company.
At the same time, share splitting also enhances the liquidity of the company– the ability to convert assets into cash easily.
Tata Steel Stock Split History
Earlier, there have been three occasions where Tata Steel has split their stocks and this will be the fourth occasion when they will do so. Below is the list of all the times when Tata Steel split their stocks.
August 11, 2004 - 1.5:1 – In 2004, Tata split their shares in the ratio of 1.5:1, which meant that for each share of the face value of Rs1.5, shareholders got 1.5 shares of Rs1.
October 29, 2007 - 1.131:1 – In 2004, Tata again split their stocks in the ratio of 1.131:1, implying that every shareholder will get 1.131 shares of Rs1 for the split of every share of Rs1.131..
January 31, 2018 - 1.05:1 – Again, in 2018, Tata decided to split their shares, making every share of the face value of Rs1.05 split into 1.05 shares of Rs1.
July 29, 2022 - 10:1 – Now Tata has decided to split their shares further in the ratio 10:1, implying investors holding 1 share of Rs.10 will now get 10 shares of Rs.1.
Analysis of Tata Steel Share Split
In Q1FY23, Tata Steel's consolidated net profit surged down by 12.83% you, and 20.4% qoq to Rs.7,764.96, and consolidated revenue, which stood at Rs.63,430 crore surged by 18.6% yoy but at the same time went down by 8.5% qoq. Apart from that recession, global uncertainties, and high inflation across the world have slowed down the growth of the entire commodity market whereas the government imposing 15% export duty has not helped its cause either.
Apart from the above difficulties of the global scenario, Tata Steel enjoys the brand name of Tata and its strong profit growth at a CAGR of more than 76% and high dividend yield speaks volume of its strong fundamentals and the increased liquidity of the recent split will only add onto its armory but it is also should be taken into consideration that after the stock split news the prices of Tata's share have gone up but more or less the impact of the stock split has already been reflected it the share price and the slow growth of the company given the market conditions does not make it a sure shot buy given the brand name you could consider Buying Tata Steel if you intend to hold it for a long term.
FAQ(Frequently Asked Questions)
Que 1. When will the Tata Steel split share be credited?
Ans. A corporate entity, in their regular course of business, takes many corporate actions, such as issue of bonus shares, and stock splits. Just like other corporate actions, stock splits also automatically get credited to your Demat account within 4-5 days from the record date issued by the company.
Que 2. What is a stock split?
Ans. During a stock split, a company's board of directors issues more shares of stock to its current shareholders without diluting their stakes in the company. A stock split increases the number of shares outstanding and lowers the value of each share.
While the number of shares that are already issued to the shareholder's increases according to the ratio, the overall market capitalization, and each shareholder's stake remain unchanged.