RBI Alert: These 34 Forex Trading Platforms illegal
RBI Alert: These 34 Forex Trading Platforms illegal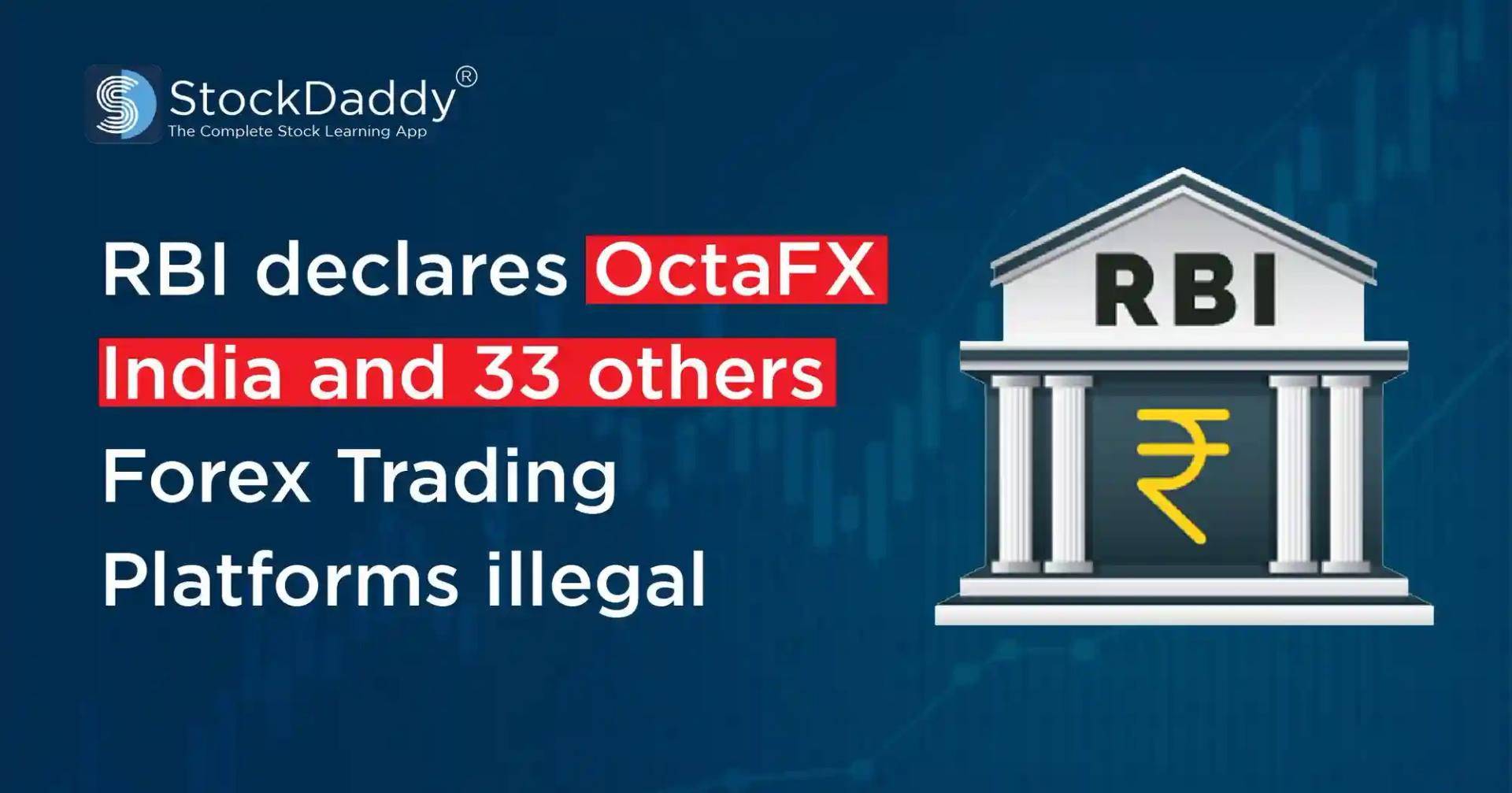 In a recent circular issued by the RBI on 7th September 2022, the apex bank of India has declared 34 online forex trading online platforms as illegal including some famous forex trading platforms such as OctaFX India, Binomo, and Olymp Trade.
RBI has come up with an "Alert List" of entities that are barred from trading in forex under the Forex Exchange Management Act (FEMA) 1999. In the circular issued by the RBI, these companies are neither allowed to trade in Forex nor permitted to run online forex trading platforms on their website.
RBI keeps coming up with these types of circulars, last it came up with such a circular in February 2022, before that in 2015, and in 2011. RBI has clearly stated that people can only carry out forex transactions with authorized individuals on recognized stock exchanges such as National Stock Exchange, BSE, or Metropolitan Stock Exchange or with authorized ETPs only for purposes stated under the FEMA Act.
Any individual undertaking forex transactions on platforms apart from authorized individuals or ETPs will be held liable for legal action against that person. RBI has further stated that this list is not exhaustive and the companies not covered under the list have not got a green signal from RBI to carry out such transactions.
RBI has alerted residents to not remit or deposit money for forex transactions not permitted under the FEMA act has not banned these companies but has declared trading in these companies illegal by carrying out a circular because these company's offices are not located in India.
List of 34 Forex Trading Platforms Declares illegal By RBI
Why RBI declared Forex Trading Platforms illegal?
1). Lack of Regulation: Most of these companies don't have their head offices in India and hence they are not regulated by the government which increases the risk of fraudulent and swindling practices by these companies. RBI is responsible to safeguard the interests of the taxpayers which is one of the major reasons that RBI took this step.
2). Lack of Transparency: These entities are often looked at suspiciously for carrying out practices that take advantage of people's greed and make profits at their expense. These companies lure people who are looking for quick money and are driven by greed.
By taking out this step government aims to discourage people to put their money in these suspicious companies.
3). No Direct Benefit to the Government: Such companies do not have their main offices in India and the government does not get any direct benefit from these companies in terms of taxes hence it becomes easy for the government to take action against such companies in case the government feels there is a lack of transparency in the functioning of such companies.
After the government imposed a heavy tax on Cryptocurrency in the last budget to discourage the citizens from investing in it, this step from the government could also be looked upon along the same lines.
The government of India has already put several restrictions on Forex Trading and this step will further dent the sentiments of those trading in these apps, now people will start pulling out their money from these apps and with this decision, you can say that the future of Forex trading is uncertain in India.