Top Green energy stocks in India for 2023
Top Green energy stocks in India for 2023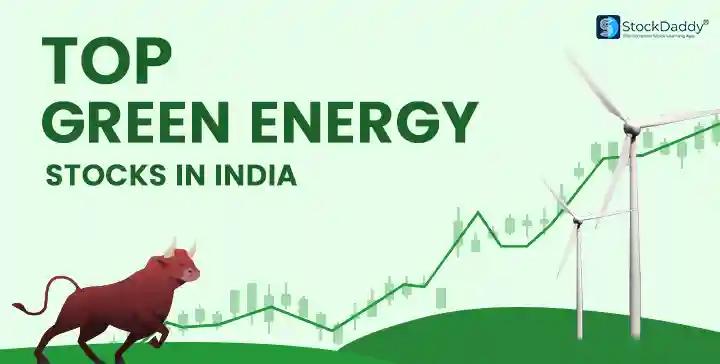 The government recently in their budget has allocated Rs.35,000 crores to focus on green growth and promote the use of renewable energy. The realization of the importance of sustainable development would result in more investment in the green energy industry which would in green energy stocks prices rising rapidly in upcoming years which would make the green energy industry a suitable investment avenue.
But for government employees there are some restrictions when it comes to investing in the stock market. Get to know if government employees can invest in the stock market.
What do you meant by Green Energy Stocks?
Green energy stocks are the shares of those companies that deals in renewable energy sources such as biofuel, solar energy, biogas, and green energy. India aims to reduce its carbon emissions by 45% and its objective is to meet 50% of the country's energy requirement from renewable energy which could boost the share prices of these stocks in the future.
Why Government is shifting towards Green Energy?
The world is suffering from a crude oil crisis and humans have squeezed the fuel and other natural resources to their full potential. Today the entire world let alone India is going through a fuel and energy crisis. Record prices, fuel shortages, rising poverty, and slowing economies have fueled the global energy crisis.
In addition to it, the Russia-Ukraine war has added to the crude oil crisis across the globe and to counter this situation many countries have increased the production of oil and coal which has impacted climate change in a big way.
That is why the government is shifting its focus towards sustainable green energy methods which do not have adverse effects on the environment and green energy stocks are shares of companies that deal in renewable energy sources such as biofuel, biogas, and green hydrogen.
Let's deep dive in detail to find out which are the top stocks in the green energy industry that would be a long-term investment option for investors. Before investing it is important to know how to select good stocks for long-term investment and what are the important ratios you must know before investing.
The stocks in the list are not in any specific order:
1). Indian Oil Corporation Limited
Indian Oil Corporation is a Maha Ratna company that is under the government of India. It has the market leader in the Oil Refining and Petroleum marketing sector of India. It controls 32% of the total refining capacity of the country.
IOCL is planning to set up a new company to fuel its renewable energy business and has ambitious expansion plans in biogas, biofuel, green hydrogen and EV mobility.
Strengths
It controls 32% of the total refining capacity of the country.
IOCL boasts of a strong network spread across the country with over 10,000 distributors, an LPG cooking gas brand called Indane serving around 12 crore Indian households.
With 1,750 planes being powered by the company's 107 aviation fuel systems, IOCL is one of India's top brands.
IOCL has a strong pipeline network as it owns and operates 13,400 km of cross-country pipelines.
It has a strong brand portfolio as it has made a significant investment in diverse sectors.
Weakness
Government Control: Government intervention and policies have resulted in losses for the company as the government mostly hasn't been able to keep a check on the gasoline prices.
Competition: IOCL faces tough competition from Reliance Industries, ONGC, Hindustan Petroleum, and Bharat Petroleum, therefore to stay in stay ahead of its competitors must take strategic investments and decisions.
Opportunities
Growing demand and Business: IOCL's main area of operation has been the transportation and distribution of petroleum products and the growing demand for fuel will provide an opportunity to strengthen its hold in the industry. In recent years, IOCL has explored new avenues through the hydrocarbon value chain as well as diversified into natural and alternate energy sources.
Focus on Renewable energy: The government has decided to invest Rs.35,000 crores in the upcoming years in the green energy sector and with IOCL'S exposure in the renewable energy industry with green energy sources of energy such as CNG, LPG, Ethanol blended petrol, and biodiesel, IOCL should benefit in the upcoming years.
Threats
Government intervention and constant policy changes can become a hindrance in the growth of the company.
Unfavorable economic conditions such as rising pollution, currency fluctuations, and Russian-Ukraine conflicts can hit the business prospects of such companies.
2). Borosil Renewables
It deals in the business of the manufacturing of flat glass and offers a diverse product range of solar glass and anti-reflective and shipment in reusable packaging to lower the need for wood. It is a good long-term stock to gift to your loved ones and for that, you should know how you can gift stocks as a gift.
Strengths
Borosil is India's only non-Chinese solar glass manufacturer for over a decade with a 40% market share.
It is the sole producer of solar glass in the country.
It is low-debt company with a strong EPS.
The company has a strong cash flow with its core business operations.
The FII have increased their shareholding in the company and the annual net profits of the company have increased from the past two years.
Weakness
There has been a decline in the net profit of the company with a falling profit margin.
Promoter's holding in the company has decreased in the company in the company by 11.2%.
Opportunities
Being an early starter in this field, it a dominant player in this field and enjoy the benefit of scalability and has ample land and infrastructure to take up further brownfield expansions.
Growing demand for power speaks volumes of the solar power outlook of the country which looks even brighter.
The government's push to increase the usage of environment-friendly energy provides a perfect platform for such companies to grow.
Threats
Looking at the growing demand China is aggressively raising its solar glass-producing capabilities which pose a serious competitive threat to Borosil.
3). Adani Green Energy Ltd
Adani Green Energy is one of the largest renewable companies in India which is mainly involved in renewable power generation and other green energy activities. It is one of the fastest-growing companies of the Adani Group with a combined market cap of USD 206 billion.
Strengths
Adani Green is present in a profitable sector with an expected CAGR of 18% in the next 10 years.
The company is in an advantageous position as the government is spending heavily in the green energy sector.
Adani Green has a strong brand name of the Adani Group and is the largest solar power developer in India which makes it a lucrative option to invest in.
The company's business operations such as electricity generation comes under essential services which makes it less prone to pandemics such as Covid-19.
Weakness
The company has an asset-heavy business and most of its raw materials such as crystalline silicon modules are imported from China.
The promoter holding of the company has decreased by 14.2% over the last 3 years whereas the working capital days increased from 51.5 days to 106 days.
Weather conditions play a crucial role in the company's business as wind and solar power are heavily dependent on it, hence bad weather conditions for a longer period can affect the company's business.
The company is heavily funded by debt.
Opportunities
There is a trend of customers moving towards the premium segment in the industry and the brand has strong recognition in the premium segment which presents a good opportunity for the company to increase its profitability.
Stricter government regulations have made it difficult for the smaller and unorganized to enter the industry.
Threats
The tumultuous political environment between countries such as US and China trade war and Brexit impact on European union could affect Adani Green's business prospects.
Increased distrust against the Adani group because of increased legal threats against the company could result in less investment and less growth for the company.
4). NTPC (National Thermal Power Corporation)
NTPC with its subsidiaries is mainly involved in the generation and transportation of electricity to state power utilities. Other arms of the business deals in project management & supervision, consultancy, energy trading, oil and gas exploration and coal mining.
NTPC is determined to make its energy portfolio greener with its subsidiary NTPC green energy Ltd. With its green arm NTPC plans to plans to have a minimum of 32,000 MV capacity with the help of renewable energy sources.
Strengths
NTPC has decades of experience in the energy industry because of which it enjoys strong credibility and popularity.
The company's ROCE and ROE have been improving over the past two years.
FIIs have increased their shareholding in the company which is a positive indicator.
NTPC has control of 22% share in electricity generation in India.
Weakness
The company is prone to getting affected by various government actions which can disrupt the company's operations and growth.
Opportunities
There has been a decrease in the supply in the energy sector which has resulted in an increase in demand which NTPC can tap on and faster their growth.
With the focus on green energy, it opens up new possibilities for the company to grow and expand.
Threats
The green energy industry is a growing market and has huge potential which is why NTPC faces severe competition from emerging private companies that have innovative services and marketing techniques.
Increased cost of production due to rise in the prices of raw materials. Tata Power has diversified its business in the electricity generation industry from thermal and renewable sources, transmission and distribution of electricity and other services like EPC and O&M.
5). Tata Power
Tata Power mainly deals in generation, transmission and distribution of electricity. The main aim of the company to produce and provide electricity through renewable sources and also manufactures solar roofs. It is one of the biggest players in the energy and power sector.
Strengths
Tata Power has diversified business in electricity generation industry from thermal and renewable sources, transmission and distribution of electricity and other services like EPC and O&M.
It has the brand name Tata associated with it which gives it credibility.
It has immense expansion capabilities as because of large capital reserves and low debt.
Weakness
It has a limited market share because of the intense competition in the growing energy industry.
The company has a relatively low return on equity over the last 3 years of 5.53%.
Opportunities
Constant growing demand for non-conventional sources of power.
It plans to 1lakh EV charging stations by 2025 which opens immense business potential and gives them edge over their competition given Tata Motor's first mover advantage in the EV sector.
Threats
Fluctuation in international policies regarding coal and oil could impact the business potential.
Changes in government policies and regulations also poses a threat to the prospects of Tata Power.
Conclusion
Given the changing circumstances, the energy sector is critical to the world economy and not only India and given the potential India possess in the green energy sector. In addition to it, the shift in consumer habits and preferences as the world is shifting towards greener resources, the growth of this industry becomes even more inevitable.
FAQ
Ques 1. Can green energy stocks be a good investment?
Ans- Globally, renewable energy is expected to increase to 95% by 2026, according to the International Energy Agency. Around the world, countries are slowly switching to green energy and investing heavily to make the process faster and smoother. As a result of these facts, green energy appears to be the future, making it a good investment in the long run.
Ques 2. Wind energy stocks in India?
Ans. Here is the list of wind energy stocks in India?
Que 3. List of energy stocks in India?
Ans. Here is the list of energy stocks in India are:

Ques 4. List of highest dividend green energy stocks in India?
Ans. Here is the list of the highest dividend green energy stocks in India are:
Ques 5. List of penny green energy stocks in India?
Ans. Here is the list of penny green energy stocks in India are: