Top Gaming Stocks in India to Buy in 2023
Top Gaming Stocks in India to Buy in 2023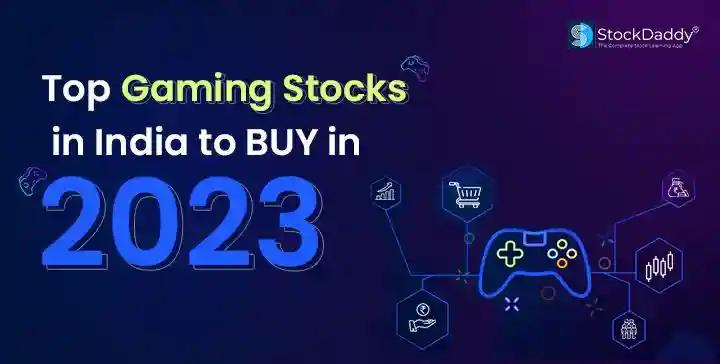 India's Internet story is inspiring and penetration of the Internet to even the remotest parts of the country is a herculean task that speaks volumes about the Indian growth story. As a result, India's gaming sector is also on the rise. It is expected that growth in the digital market will surpass 900 million Internet subscribers by 2025.
Amidst all this Indian gaming industry is turning out to be one of the biggest booming industries in India. Indian gaming industry is a 1.8 billion dollars gaming industry growing at 38% CAGR during the year 2017-20 whereas the global video game market size was valued at 184.4 billion dollars in 2022 and in terms of app downloads, India is the largest mobile gaming market in the world.

Recently Goods and Services Tax Council (GST Council), the GST rate for online gaming, casinos, and horse racing will be 28 percent and it is likely to come into effect from October 1. Through this move, the sector will be made more transparent and accountable, while real money and non-money games will be taxed fairly.
What is the future of the Gaming Industry in India
The global gaming industry is on its way upward. To put things in perspective, Marvel's Avengers Endgame did a business of 850 million dollars whereas Call of Duty – Modern Warfare released in the same year earned a whopping revenue of 1.9 billion dollars.
India is now among the top markets for gamers and India is expected to become a more than 10 billion dollar industry in the next decade. India's richest person recently said "It is very hard to imagine but gaming will be bigger than music, movies, and TV shows put together.
For example- Ludo King's parent company clocked a staggering revenue of 20 million dollars in 2020. There are around 6,00,000 e-sports players and 1,00,000 e-sports teams currently in India. In addition to it, there are 400 million gamers and 500 plus gaming studios in India.
It is importance of investing early in the stock market to get the most out of compounding.
How the government is pushing the Indian gaming industry
The Indian government is planning to set up a National Animation, Visual Effects, Gaming and Comic Centre (AVGC) of Excellence in collaboration with IIT Bombay. Therefore, gaming stocks can be a good investment option for government employees who have certain restrictions when investing in stock. Tap to find out what the restrictions are and can government employees invest in share market.

Get free stock market courses by open a demat account with stockdaddy
Top Gaming Stocks in India in 2023
The following gaming stocks are good stocks for the long term and you should also need to know the Important Ratios You Must Know Before Investing.
1). Nazara Technologies
Nazara Technologies is an India based leading gaming and sports media platform. It is one of the gaming company stocks in India that provides interactive and immersive gaming services across different platforms such as eSports, interactive gaming, and gamified learning ecosystems. Nazara Technologie's share price is currently hovering at Rs. 564. Per share.
In mobile gaming, the company has some recognizable games such as WCC and Carrom Clash. In the eSports and eSports media platforms, the company has Nodwin and Sportskeeda respectively whereas it has Halaplay and Qunami in skill-based, fantasy, and trivia games.
Amount (In crores)
2). Zensar Technologies Limited
Zensar Technologies is a Mumbai based leading digital and technology-based company with its headquarters in Pune and its business spread across 18 countries. Zensar is focused on assisting gaming companies to optimize the benefits of speed and efficiency for which it has created a specialized Game Testing Centre of Excellence. Zensar Technology share price is Rs. 213 per share.
3). Delta Corporation
Delta Corporation previously known as Arrow Webtex Limited is the largest gaming company in India which operates in the online skill gaming, gaming, and hospitality segment. It is the gaming brand in India that is listed in the Casino gaming space with more than 2000 live gaming positions. Its business is spread across three major segments. Delta Corporation Limited share price is Rs. 213 per share.
Casinos
Online gaming
Hospitality
4). Tech Mahindra
Tech Mahindra is a leading name in the digital technology industry that provides comprehensive IT and IT enabled services, consulting, and enterprise business solutions to corporates and individuals in and out of the country. The company has a worldwide presence of more than 1,50,000 employees across 90 plus countries.
5). On Mobile Global Limited
On Mobile Global Limited is one of the upcoming gaming stocks in India providing value added services such as Ring back tones, Digital Content Store and end-to-end mobile entertainment solutions including apps, content partnerships, and professional services.
They are present in about 56 countries with a user base of 84 million.
Conclusion
The above companies are among the top gaming shares in India which are listed on the stock exchanges which can be seen as a bright investment avenue for the long-term as the gaming industry is all set to be the next big thing in the Indian corporate industry with the rise in the popularity of gaming among the youth because of drastic technological advancements and other major corporate giants backing them.
FAQ
Ques 1. List of casino stocks with market cap?
Ans. In India, Delta Corp Limited is the only listed company involved in casino (live, electronic, and online) gaming.
Ques 2. Are gaming chip stocks listed in India?
Ans- As there are no gaming chip companies listed in the Indian stock market, so here are some gaming stocks listed on NASDAQ-
Ques 3. List of Gaming stock by dividend?
Ans. Here is the list of gaming stocks in India are:

Ques 4. What are the risks associated with investing in gaming stocks?
Ans. Investment in gaming stocks involves risks such as market volatility, regulatory changes, competition, technological advances, and the success of individual titles.
Ques 5. Is the gaming industry dying?
Ans- No, the gaming industry is not dying. In fact, it has been experiencing significant growth and is a thriving sector of the entertainment industry. Here are some points to consider:
Market Growth: The gaming industry has been growing consistently over the past decade and shows no signs of decline. It has become a mainstream form of entertainment, reaching a wide range of demographics globally.
Revenue Generation: There are many channels through which the gaming industry generates revenue, including game sales, in-game purchases, subscriptions, advertising, and esports. The industry has seen consistent revenue growth year after year.
Broad Audience: Gaming is enjoyed by a diverse audience, including casual gamers, hardcore gamers, and mobile gamers. The accessibility of gaming platforms, such as consoles, PCs, and mobile devices, has contributed to the industry's expansion.