Best Stock Market Course In India
Best Stock Market Course In India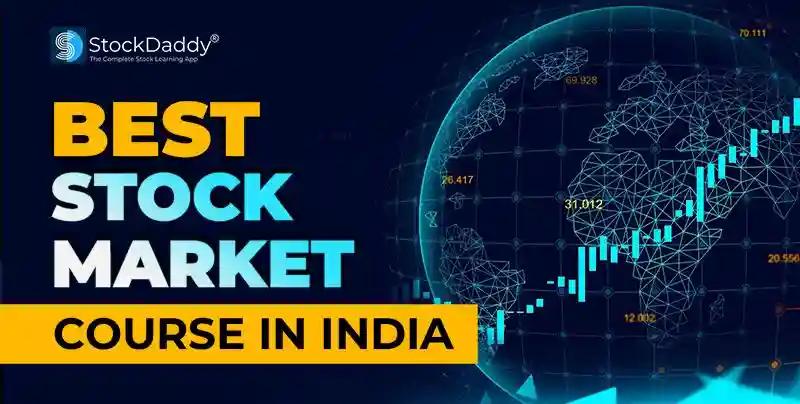 Investing in the stock market can be both exciting and rewarding, but it's essential to equip yourself with the right knowledge and skills to navigate the complexities of this financial landscape. That's where stock market courses come into play. In this article, we will delve into the top 5 best stock market courses in India that can empower you to invest like a pro.


Unlock free stock market courses by simply opening a demat account with StockDaddy.
Best stock market courses in India are:
1). StockDaddy: Complete Stock Market Course
Overview
Stockdaddy's Complete Stock Market Course is a comprehensive program that caters to individuals at all stages of their investment journey. Whether you're a novice looking to get started or a seasoned investor aiming to refine your strategies, this course has something to offer.
What You'll Learn
Basics of the Stock Market: Understand the fundamental concepts and important ratio you must know before trading and investing.
Technical and Fundamental Analysis: Dive deep into both technical chart analysis and fundamental company analysis.
Options Trading: Learn analyze stock charts to determine market trends and directions.
Risk Management Strategies: Learn how to mitigate risks effectively.
Trading Psychology: Master the mental aspect of trading.

stockdaddy also provide you stock market free trial class


2. NSE Academy
Overview
The National Stock Exchange (NSE) Academy, a subsidiary of the NSE, is a reputable institution known for its high-quality stock market courses. Their courses are designed to cater to a wide range of individuals, from beginners to advanced traders.
What You'll Learn
Understanding Market Trends: Analyze and predict market trends.
Trading Strategies: Develop effective trading strategies.
Portfolio Management: Learn how to build and manage a diversified portfolio.
Derivatives and Options Trading: Explore advanced trading instruments.
NSE Academy's courses are backed by the experience and expertise of one of India's leading stock exchanges.



3). Udemy: Options Trading Course
Overview
Options trading is a specialized area that offers unique opportunities. Udemy's Stockdaddy Options Trading Course is an excellent choice for those interested in this niche.
What You'll Learn
Options Basics: Gain a solid foundation in options trading.
Advanced Options Trading Strategies: Explore advanced options trading strategies.
Risk Management in Options Trading: Learn how to protect your investments.
Real-World Case Studies: Apply your knowledge to real scenarios.
This course equips you with the expertise needed to navigate the complex world of options trading confidently.


4). StockDaddy: Technical Analysis Course
Overview
For those fascinated by technical analysis, Stockdaddy offers a dedicated course to master this art. Technical analysis course involves studying charts and patterns to predict market movements.
What You'll Learn
Candlestick Patterns: Interpret candlestick patterns for market insights.
Chart Analysis: Analyze price charts for trends.
Indicator Interpretation: Understand and use technical indicators.
Trading Strategies Based on Technical Analysis: Develop strategies based on technical insights.
With this course, you'll become proficient in using technical indicators to make well-informed trading decisions.




5). BSE Academy

Overview
The Bombay Stock Exchange (BSE) Academy is another excellent choice for those seeking stock market education. Their approach is practical, focusing on real-world application.
What You'll Learn
Trading and Investment Strategies: Develop strategies that suit your investment goals.
Technical Analysis Tools: Master technical analysis for precise market entry and exit points.
Risk Assessment and Management: Understand and mitigate risks effectively.
Market Regulations: Stay updated with the latest market regulations.
BSE Academy's courses emphasize hands-on learning, ensuring that you are well-prepared to tackle the stock market.


Conclusion
In conclusion, the Indian stock market holds vast potential, but it also presents challenges. To succeed as an investor, you must invest in your education. These top 5 stock market courses in India offer not only knowledge but also practical skills and strategies to thrive in this dynamic field.


FAQs
Que 1. Are these courses suitable for beginners?
Ans. Yes, most of these courses are designed to cater to beginners and provide a strong foundation in stock market knowledge.
Que 2. Can I take these courses online?
Ans. Yes, many of these courses offer online options, allowing you to learn at your own pace and convenience.
Que 3. Are these courses recognized in the industry?
Ans. Absolutely, these courses are offered by reputable institutions and are recognized within the stock market industry.
Que 4. What is the duration of these courses?
Ans. The duration varies depending on the course and your chosen pace. Most courses offer flexibility to accommodate different schedules.
Que 5. Can these courses guarantee success in the stock market?
Ans. While these courses provide valuable knowledge and skills, success in the stock market also depends on your application of what you've learned and the prevailing market conditions.
Investing in one of these top courses is not just an investment in education; it's an investment in your financial future. Choose wisely and embark on your journey to becoming a knowledgeable and successful stock market investor in India.