Best 7 places to open a Demat account
Best 7 places to open a Demat account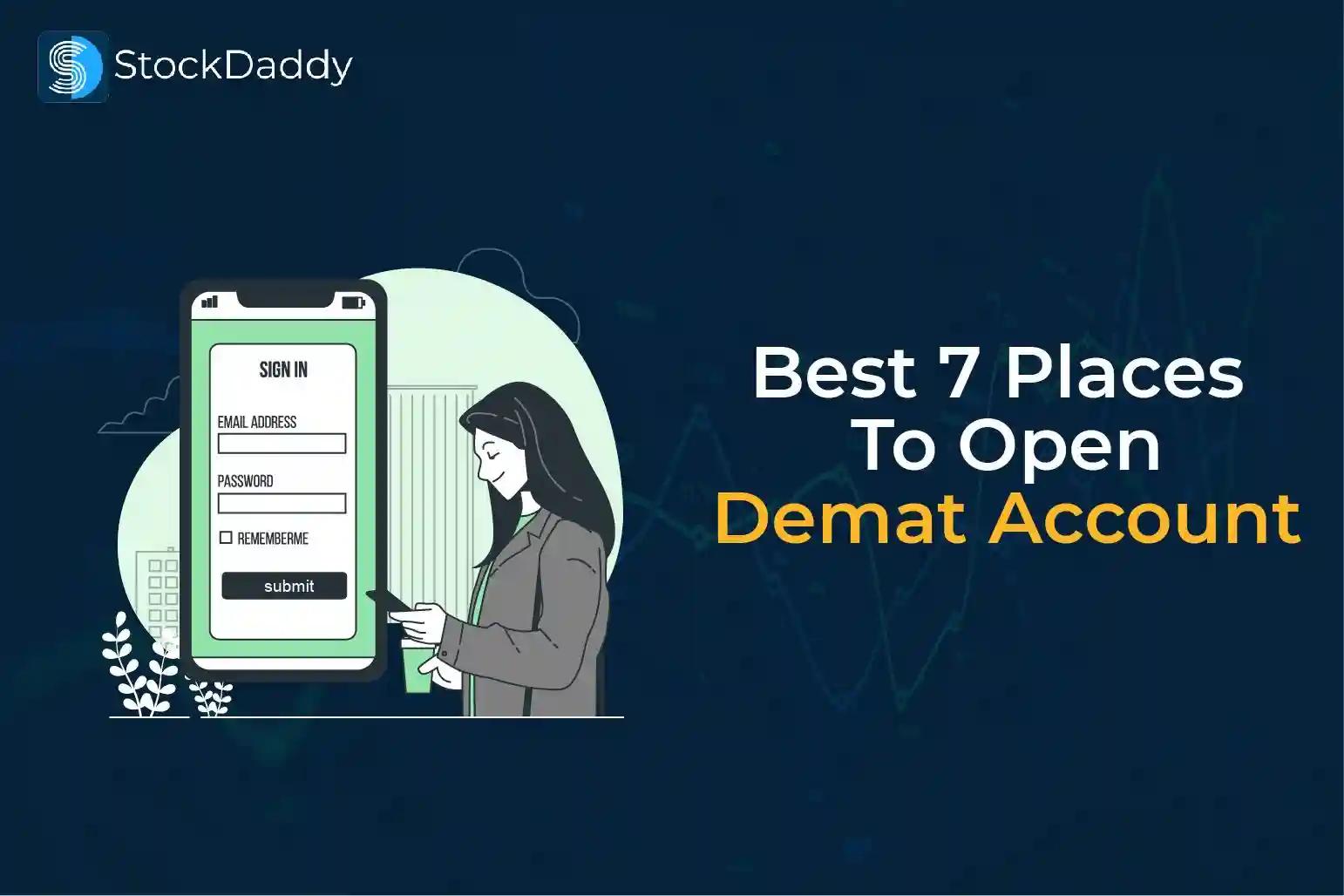 Investors use a Demat Account to hold shares and securities in digital or electronic format. The complete form of a Demat account is a Dematerialized account. In this blog, you get to know about Best 7 places where you can open your Demat account.
1). Upstox Demat Account
Upstox is one of the best choices to open a Demat account in 2021. The company is Mumbai-based and is backed by some of the finest names in the industry, including Ratan Tata, and is used by over 40 lakh traders. Upstox offers excellent charts and tools as well as minimal brokerage fees. In addition, the platform enables zero commission trading on Mutual Funds, Digital Gold, and Initial Public Offerings (IPOs).
Features
The company now provides a free Demat account. It also comes with Rs.1000 in credit that you can utilise in the first 30 days. You can make 50 free orders (Rs. 20 each) with a brokerage credit of Rs. 1000.
You can buy stocks with only 50% of your capital, with the remaining 50% shared by Upstox via the Margin Trading Facility (MTF) function.
Their Pro Web 3.0 platform has industry-leading capabilities, including the ability to switch between trading view and chart IQ graphics. It also included a set of sophisticated charts with over 100 indicators.
Upstox will credit you with a free stock within 48 hours of your account opening.
Upstox Demat Account charges:
For each intraday trade: cost of Rs. 20
2). Zerodha Demat Account
The second good option for opening a Demat account in India is Zerodha. Zerodha, a discount brokerage company based in Bangalore, began operations in 2010 and has since made a significant impact on India's discount broking industry. The website, which currently has over 5 million members, offers various facilities such as investing in stocks, mutual funds, derivatives, and other financial instruments. The cheap broker provides excellent customer care, including telephone and ticket help 24 hours a day, seven days a week.
Moreover, Zerodha has a very user-friendly layout and offers multiple tools such as complex charts, indicators, and technical analysis tools for users.
If you have any queries you contact Zerodha customer care: 08047181888
Zerodha Demat Account charges:
Zerodha Brokerage For per executed order: charges a very low 0.03 per cent or Rs. 20.
Features
On delivery, no commission is charged.
From 4 to 15 times is a good margin.
It comes with comprehensive charts, indicators, and other technical analysis tools, with a maximum brokerage charge of Rs. 20 per executed order.
The account opening fee is Rs 300.
Zerodha Varsity is a platform that teaches you all about the stock market's fundamentals.
zerodha account opening: https://zerodha.com/open-account?c=ZMPPUG
3). Angel One Demat Account
With a broad customer base across India, Angel One is India's third-largest brokerage. They also redesigned their web interface to provide a better trading experience in addition to their app.
You can earn Rs.15,000 worth of discount vouchers from leading brands when you register a free Demat account with Angel One (offer valid till November 30, 2021). Angel One does not require an upfront payment, and the initial margin is determined by the amount of money that is deposited.
Angel One Demat Account charges:
A minimum brokerage charge: cost of Rs. 20.
Features
A well-known brand with a 25-year track record.
The platform is quite advanced, with helpful research suggestions.
Open your Demat account free of cost.
Open Angel One Demat Account: https://nxt.angelbroking.com/SubBrokerAPI/LMSLanding?SBCode=C6urJDFekYkh8RzOybGFvw%3d%3d
4). ICICI Direct Demat Account
ICICI Direct is one of the most popular brokerage organizations with more than 40 lakh customers. It is mainly known for its well-designed trading capabilities. Furthermore, the platform provides you with the most powerful and user-friendly trading tools. In terms of icici brokerage plans, ICICI demat account offers three options: Secure, Saver, and Prepaid brokerage. The lack of numerous trading graphs, the lack of a brokerage calculator, and the bad mobile app are just a few of the drawbacks.
ICICI Demat Account charges:
For intraday and futures: cost of Rs. 20 per trade with their Neo plan.
For Demat account maintenance fee: cost of Rs. 300 per year.
As a result, it is less expensive than others.


Features
Company with a good reputation.
All the three features you avail in 1 Demat account.
Simple transfer money system...
You can also avail of insurance as multiple options are available.
5). 5Paisa Demat Account
In India, 5Paisa is an optimum Demat account broker with a simple fee structure. The discount broker or icici demat account login is also accessible on a mobile application with a user-friendly layout. Along with this, 5Paisa would have no brokerage at the time of delivery. This platform is also considered the cheapest brokerage platform even though it has an advantage where you don't need to pay account opening fees and can open a Demat account frequently in just one day.
5Paisa Demat Account charges:
A brokerage fee charged by 5Paisa for each executed order: cost of Rs. 20
If you pay Rs. 999 for the Ultra Trader bundle, you can order worth crores for just Rs. 10 each trade and the first prime 100 trades are free of cost.
Features
0 charges for opening a Demat account.
Brokerage fees are minimal.
Simple to use
Easy and quick process for creating an account.
6). Sharekhan Demat Account
With over 16 lakh customers, Sharekhan was established in 2000 and has been operating for a long time. Sharekhan is one of the few companies in India that bring internet trading into vogue. Sharekhan provides high-quality merchandise and services. With Sharekhan, you won't have to pay any fees for a Demat account, and any Demat account maintenance fees for the first year. However, because Sharekhan brokerage charges 10 paise for one share, it is the little expensive choice available, making trading in low-priced equities difficult.
Opting for a prepaid plan is one approach to save money on brokerage. But it has some cons, however, non-refundable, and if you do not use the brokerage within the given time frame, you will lose the money.
Sharekhan customer care number: 02261151111
Features
A Sharekhan brokerage charges Rs 0 for opening Demat account.
There are no fees for making calls or trading, and for transferring money from your bank to your trading account.
No charges for online classroom sessions.
Invest in a prepaid plan to save on brokerage fees.
7). HDFC Demat Account
HDFC Securities is a wholly-owned subsidiary of HDFC Bank, which was founded in 2000 and now has over 17 lakh customers. In terms of the trading interface, anyone can pick it up in a matter of minutes. You can use its mobile app which is excellent as well. You can trade and invest in stocks, derivatives, mutual funds, fixed deposits, NCDs, insurance, bonds, and currency derivatives using the site. HDFC Demat account makes money transfers incredibly simple.and HDFC are not providing the facility to trade in commodity trading.
HDFC Demat Account Charges:
Delivery-based trades: charged 0.5 per cent or Rs. 25
Square off trades (Cash and Carry Scrips): charged 0.1 per cent or Rs. 25
For all other trades: charges 0.05 per cent or Rs. 25
Starting a Demat account with HDFC Securities: cost of Rs. 999
Annual Demat account maintenance: costs of Rs. 750.
Features
With a three-in-one HDFC Demat account, you can send funds quickly.
HDFC is a reputable brand.
HDFC Blink and other advanced features require a monthly membership.
HDFC customer care number: 01161606161



Wrap Up!
There are a lot of other platforms available but these 7 platforms are some of the best for opening Demat accounts in India according to the sources. You can also approach StockDaddy to open your Demat Account simply and rapidly.
Open DEMAT Account with Stockdaddy