Best pharma stocks in India To Buy in 2023
Best pharma stocks in India To Buy in 2023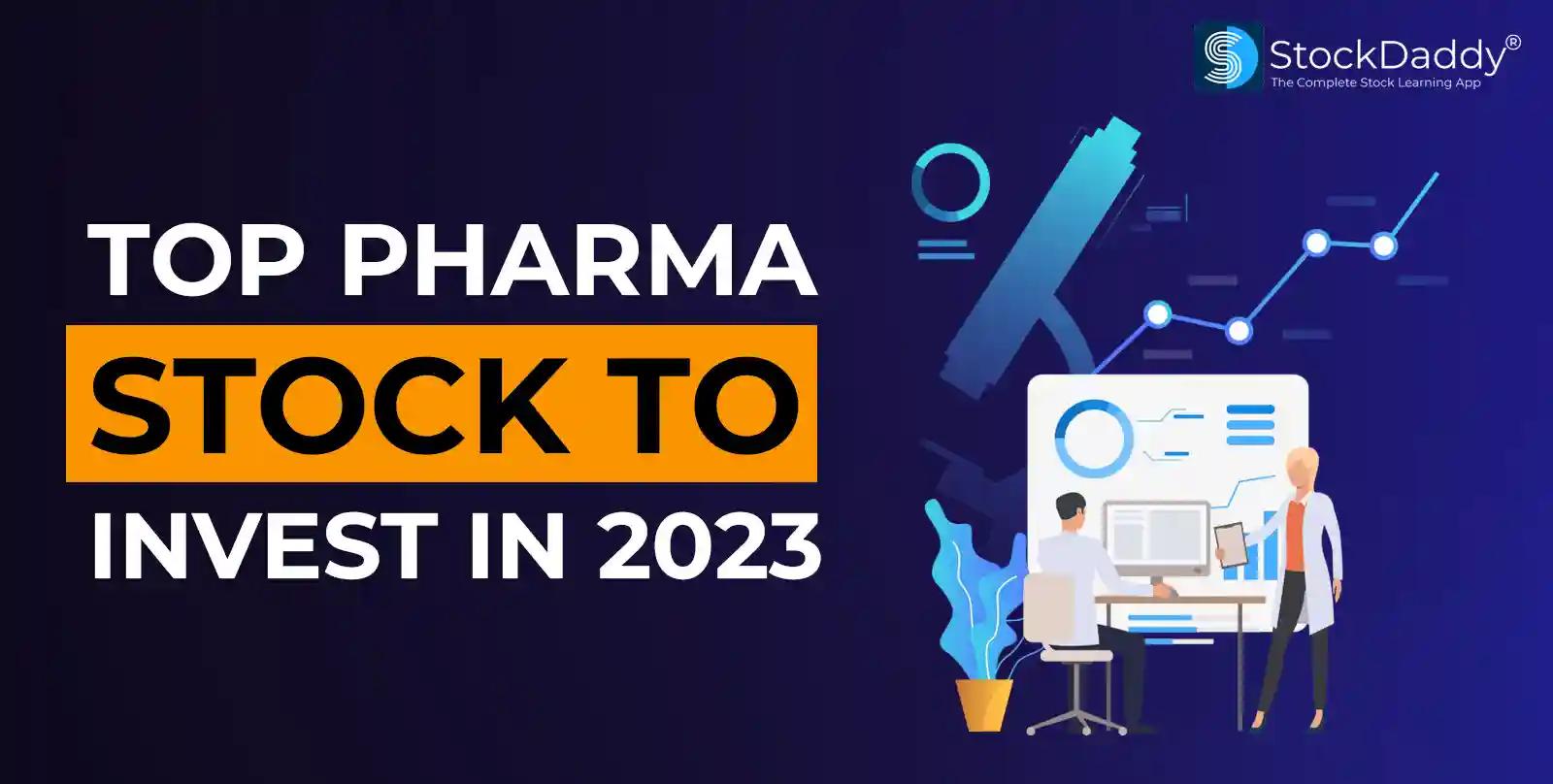 Investing in pharmaceutical stocks has long been a prudent choice for investors seeking stability and growth potential in their portfolios. The healthcare industry, especially pharmaceuticals, is known for its resilience and consistent demand.
This blog, we will explore the top 5 pharma stocks that should be on your radar for investment. These five companies - Cipla, Dr. Reddy, Auropharma, Lupin, and Torrent Pharma - are prominent players in the pharmaceutical sector, known for their innovation, financial stability, and investor-friendly practices. To provide you with a comprehensive view, we have compiled a table with key metrics for each of these companies, including their market capitalization, current share price, debt to equity ratio, and return on equity (ROE).
Get stock market courses for free by opening a demat account with stockdaddy, know how to open demat account
Things to look out for before Investing in Pharma Stocks
1). Expanding Access to Healthcare Facilities
India is renowned for its historically low doctor-to-patient ratio, which measures the number of doctors per thousand individuals. Nevertheless, this situation is swiftly improving, thanks to the proliferation of medical colleges.
As the number of doctors, medical colleges, and hospitals continues to rise in India, it becomes increasingly evident that the pharmaceutical sector's potential for growth cannot be underestimated.
With technical analysis course learn how to predict the price movement of a specific stock using historical data and volume.
2). Surging Incidence of Chronic Diseases
Transforming lifestyles in India, influenced by factors such as rapid urbanization, unhealthy dietary patterns, environmental degradation, sedentary living, and more, have resulted in a notable upswing in chronic health issues.
These factors are poised to propel the growth of the chronic therapeutic sector, which, in turn, promises enhanced profitability for pharmaceutical firms.
3). Robust Portfolio of Off-Patent Drugs
As certain blockbuster drugs gradually lose their patent protection, Indian pharmaceutical companies are expected to witness substantial growth in their export market.
These companies currently export their products to more than 200 countries, including both regulated and semi-regulated markets, providing them with a wide spectrum of opportunities for expansion."
List of Top Pharma Stocks in India to Buy in 2023
As a investor you need to know how to choose stocks for long term investment in india, but you always know the important ratio in stock market.
| | | | | |
| --- | --- | --- | --- | --- |
| Company | Market Capitalization (in Cr.) | Current Share Price (INR) | Debt to Equity Ratio | ROE (%) |
| Cipla | 94,800 | 1,174 | 0.04 | 12.8 |
| Dr. Reddy Laboratories | 90,019 | 5,397 | 0.05 | 21.6 |
| Aurobindo Pharma | 50,066 | 854 | 0.2 | 7.47 |
| Lupin | 51,514 | 1,132 | 0.36 | 3.33 |
| Torrent Pharma | 65,004 | 1,921 | 0.67 | 20 |
1). Cipla: A Pillar of the Pharmaceutical Industry
Cipla, a global pharmaceutical company, has been a stalwart in the industry. Its commitment to quality and affordable healthcare solutions has made it a favorite among investors.
Market Capitalization: 94,800 crore
Current Share Price: Rs. 1,174
Debt to Equity Ratio: 0.04
ROE: 12.8
2). Dr. Reddy: Leading Innovation in Healthcare
Dr. Reddy is renowned for its innovation and dedication to improving healthcare worldwide. It's a name that stands for excellence in pharmaceuticals.
Market Capitalization: 90,019 crore
Current Share Price: Rs. 5,397
Debt to Equity Ratio: 0.05
ROE: 21.6

3). Auropharma: Shaping the Future of Medicine
Auropharma is a research-driven pharmaceutical company, playing a pivotal role in advancing the healthcare industry. Its commitment to quality is a hallmark of its success.
Market Capitalization: 50,066 crore
Current Share Price: Rs.854
Debt to Equity Ratio: 0.20
ROE: 7.47

4). Lupin: A Global Pharmaceutical Giant
Lupin, with its global presence, has consistently proven itself as a pharmaceutical giant. It is dedicated to improving the quality of life through its pharmaceutical products.
Market Capitalization: 51,514
Current Share Price: Rs. 1,132
Debt to Equity Ratio: 0.36
ROE: 3.33

5). Torrent Pharma: A Prescription for Success
Torrent Pharma has been successful in the pharmaceutical sector, and its dedication to patient well-being is evident in its products and practices.
Market Capitalization: 65,004 crore
Current Share Price: Rs. 1,921
Debt to Equity Ratio: 0.67
ROE: 20

Why Invest in Pharma Stocks?
Pharmaceutical stocks are often considered a safe haven for investors due to the industry's resilience and consistent demand for healthcare products. These top 5 pharma stocks, including Cipla, Dr. Reddy, Auropharma, Lupin, and Torrent Pharma, offer the potential for long-term growth and stability in your investment portfolio.

In Conclusion
As you consider your investment options, these top 5 pharmaceutical companies should definitely be on your list. Their strong financials, commitment to innovation, and dedication to shareholder value make them attractive prospects for investors looking for long-term growth and stability.