Artificial Intelligence Stocks In India To Buy In 2023
Artificial Intelligence Stocks In India To Buy In 2023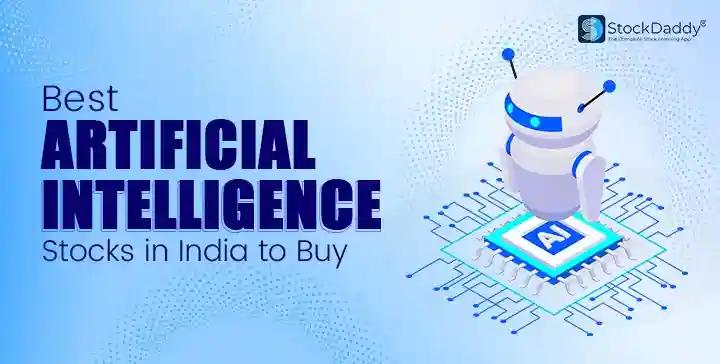 Artificial Intelligence is the future of Information Technology as it is said that AI companies in Bangalore have the potential to transform the entire world not only India. But before recognizing the top Artificial Intelligence stocks in India and their potential impact on how the world would function, let's understand what artificial intelligence really is.
With technical analysis course learn how to predict the price movement of a specific stock using historical data and volume.
Origin of Artificial Intelligence
John McCarthy is often referred to as the "Father of Artificial Intelligence." He was an American computer scientist who coined the term "artificial intelligence" in 1956 and played a significant role in the early development of the field.
AI uses computers and machines to mimic problem-solving and decision-making but for limited and narrow task. For example- AI is used in our daily lives like: Speech Recognition: In Apple's or Amazon's Alexa , Customer Service: Virtual Chatbots , Image Processing: Used in social media or self-driving cars.
Ai stocks in India are a good investment option for long term but for that, you need to know the recipe for selecting good stocks for long term.
Get a free stock market courses by opening a demat account with stockdaddy, know how to open a demat account.
What is the future of AI?
AI is expected to have a big impact on technological development in the future. Through AI all repetitive tasks being done by machines only critical decision-making tasks being left for humans. AI can be replicated anywhere and that's why it is expected to integrate our daily lives as time goes on.
The AI companies in India are still at a nascent stage as compared to other developed tech-based economies such like the US, but India is expected to have 100 AI startups by 2025. According to Accenture, AI has the potential to add $957 billion or 15% of the current Indian GDP by 2035 and most of it will be added through industrial, manufacturing automation and the digital transformation of corporates in India.
Also, there is a big scope of artificial intelligence companies in India given the vast talent pool the country has in the IT space and the high graduate population.

If you want to secure your future then you need to start early investing in stock market in these long term stocks.
Before investing in any stock every investor must know the Dos And Don'ts Of Investing. These do's and don'ts are going to be very useful in your investing journey.
Best AI stocks in India for Long Term
Let's look at the top AI companies in India which could be the torchbearers of the Indian Artificial Intelligence Industry in the future, and these are the AI companies listed in NSE as well as in BSE.
you also need to know important ratios before investing in artificial intelligence stocks in India
1). L&T Technology Services
LTTS is an engineering service, research, and development (ER&D) company. It is a listed subsidiary of Indian Conglomerate Larsen & Toubro. LTTS provides end-to-end digital and engineering solutions for a variety of industries like transportation, Industrial products, Telecom and Hi-Tech, Medical Devices, and Plant Engineering.
The company's major focus in AI/ML is in building AI solutions for industrial use cases and in 2009 the company also announced a five-year strategic initiative known as L&T Nxt to emphasis on Artificial Intelligence and the Internet of Things (IOT).
2). Happiest Minds Technologies Ltd.
It is a Bengaluru based AI company that focuses on emerging technologies such as Cloud Computing, Artificial Intelligence, the Internet of Things, Blockchain, Robotics, Drones, and Virtual Reality.
The company uses AI for Image and Language processing and helps client companies in saving time and money.
3). Persistent Systems
This Pune-based company is a leading player in the digital and cloud transformation space in India. With the help of its software engineering and strategy services, the company assists their clients in implementing and modernizing their business. The company's focus on AI is mainly on digital banking and healthcare software solutions space.
The company has a few in-built platforms that provide quick integration with other businesses and over time, the company has increased their client base with over 1000 active clients annually and is one of the stocks among best AI stocks in India.
4). Tata Elxsi Limited
It is a leading provider of design and tech services across industries including automotive, Media, Communications, and Healthcare. The company provides various spread-out integrated services from research and strategy to automotive, electronics to software development. It is among the best ai stocks in India.
Recently Tata Elxsi has proved its metal in the AI world with video analytics solution and self-driving and the company is also working in the direction of cloud computing, smart mobility and Internet of Things.
5). Affle India Limited
Affle India is a technology company that works mainly in the platform-as-a-service model. The company has a proprietary consumer intelligence platform that tracks and delivers consumer acquisitions, engagements, and transactions through relevant mobile advertising for its clients.



Affle India helps in providing end-to-end solutions to their clients by enabling to generate leads and converting online audiences to business for these companies with their technical services.
To Sum Up
With such rapid technological advancements taking place and AI deeply rooting in our lives, AI is expected to take over the technological world and these companies could turn out to be the companies of the future. Some of the above AI companies in India are somewhat established and others at their nascent stage but given the use of technology especially AI, the stocks of these companies could provide multifold returns to their investors.
FAQ
Que 1. List of Ai Stocks In India?
Ans. Here is the list of Ai Stocks In India
Tata Elxsi Ltd.
Boasch Ltd.
Kellton Tech Solution Ltd.
Zensar Technologies Ltd.
Persistent Systems Ltd.
Saksoft Ltd.
Oracle Financial Services Software Ltd.
Affle India Ltd.
Cyient Ltd.
Que 2. Artificial Intelligence Dividend Stocks in India?
Ans. The best Artificial Intelligence Dividend Stocks in India are:
Que 3. List of Artificial intelligence small cap stocks in India?
Ans. Here is the list of Artificial intelligence small cap stocks in India.
Que. 4 Are AI stocks in good investment option in 2023?
Ans. Investing in AI stocks in India can be an excellent investment for many reasons. There is a strong potential for good returns on investment in the AI industry in the coming years, as it is expected to grow rapidly. In recent years, artificial intelligence (AI) has become an essential tool for several businesses, and India's technology market is booming. So, it is the right time to invest in AI stocks if you want multi-bagger returns.